Cary Pallas: Sports Hero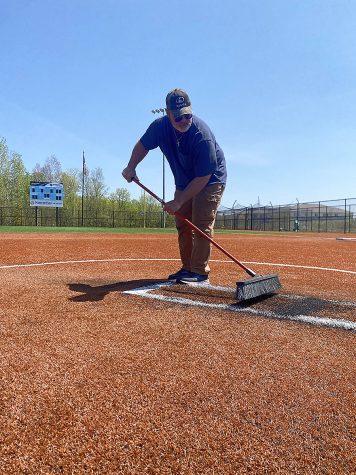 Cary Pallas is a maintenance worker for the buildings and grounds department of the Superior School District. Cary maintains the sports complex and turf fields. Not only when sports are going on, but he also works in the winter working to remove the snow and make sure we are able to be out on the field.
Being in a spring sport in Superior isn't easy. With the snow sticking around until mid-April, the girls soccer team had to practice inside. Running inside for a long period of time caused me to get shin splints and was hard on my knees, making the beginning of the season not as enjoyable. Practicing inside also limits what I am able to practice as a goalie. Making the transition to the turf outside difficult because the ball moves differently. That's why Cary Pallas is so influential for me and my team during the soccer season.
Not only does he affect me but also the entire team including senior Presley Kalin and Junior Autumn Cooper.
"It's a really difficult transition from inside to outside especially because most teams we play have been practicing outside for a really long time. But also it's nice transitioning to being outside because the energy gets ramped up a little higher and it's definitely more fun and game-like," Cooper said.
Cary influences many athlete's day-to-day lives without them even knowing it. He is the reason that having sports outside is possible.
"That guy does a lot for our team and I am very grateful for him, I mean there has been times where he has removed all the snow and then it snows five inches and he has to go back out and remove it before a game, so it's greatly appreciated by the team," Kalin said.
Ultimately, I would not be able to play high school soccer without Cary working to keep the complex and turf in good condition.