Dancing through life
Junior Ivan Zambori danced their way to third place in the Pledgemakers Got Talent event.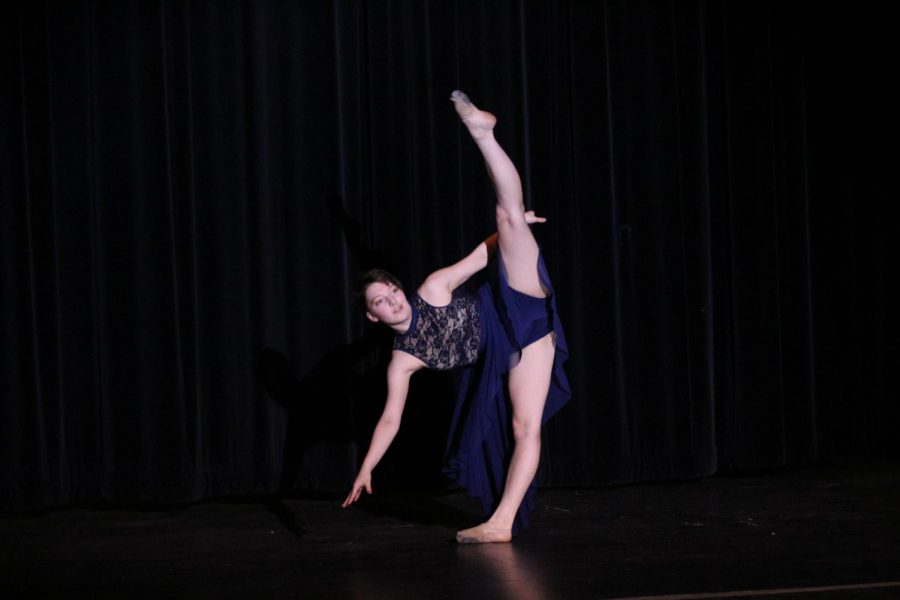 By Megan Jaszczak, Reporter
May 16, 2019
At the annual Pledgemakers' Got Talent show April 24, junior Ivan Zambori took the opportunity to show off their dancing skills. In the Performing Arts Center, Zambori danced to "come out and play" by Billie Eilish and ended up tying for third place in the competition, winning $50.
Zambori has been dancing for the past 14 years and plans on continuing during college and perhaps into a future career. When given the chance to perform at the "Pledgemakers Got Talent" show, Zambori said it was a good way to get their name out into the community and "add something interesting to (their) resume."
"Any chance I get to perform, I will take," Zambori said.
At the talent show, Zambori performed an original piece made up on the spot. With music they picked out the night before, they used a blend of lyrical and contemporary style dances.
Lyrical dance involves multiple dance styles, like ballet and jazz. Its focus is expressing emotions and telling stories through flowing body movement. Contemporary-style dancing involves "creating imagery with the body and unpredictable changes," according to Zambori.
"My own work employs more lyrical than anything, but I do break out into contemporary occasionally," Zambori said.
Outside the talent show, Zambori dances at Sterling Silver Studio and often competes in ballet or jazz recitals, and performs in solo competitions with contemporary and lyrical dances. Their most recent recital was at the "Showstopper" dance competition in Wisconsin Dells on April 28.
Zambori also dances with the Minnesota Ballet and performs in its recitals. Whether performing for the Minnesota Ballet or Sterling Silver Studios, Zambori earns high rankings in competitions.
"I'm usually first place for solo competitions – rarely second place," Zambori said.
After the dance at the talent show, Zambori was surprised to win but was happy with the success. Zambori is planning to attend Columbia College in Chicago after graduating to major in dance.
In looking towards their future in Chicago, this win was extra exciting for Zambori. Although they didn't expect to win, Zambori was excited and proud to have such great approval for talent in dancing.
"I wasn't mentally prepared," Zambori said. "I don't think I've processed it even now."
Although they tied for third place with 16 percent of the votes, Zambori was the only dancer who made it to the top four. They are greatly encouraged not just by friends and family, but also dance instructors and fellow dancers.
"I have a lot of confidence in my career and practice because of them," Zambori said. "I thank them for teaching me all that I know today."