Vaping brands attract youth, using flavors, candy look-alikes
In a survey given out Oct. 10 that 323 Superior High School students took, 20% said that they have vaped. 
Most teens do not realize the effects of vaping and how it can affect the human body. However, informing teens about the dangers of vaping through commercials, billboards, magazines and news stories has increased for the past two years. Nonetheless, appealing flavors continue to entice teens, mint has been the most popular flavor among teens, according to an arctivle at www.cnbc.com.
"I really like grapple melon ice because it contains menthol and can be very refreshing when inhaled," an anonymous SHS Junior said. 
Companies have been using flavors that are similar to favorite childhood snacks, candies, and drinks. For example, Candy King and Vapegoons eJuice have made flavors that taste like Sour Patch Kids, Apple Juice, Warheads, Gummi Worms, Pop Rocks and more!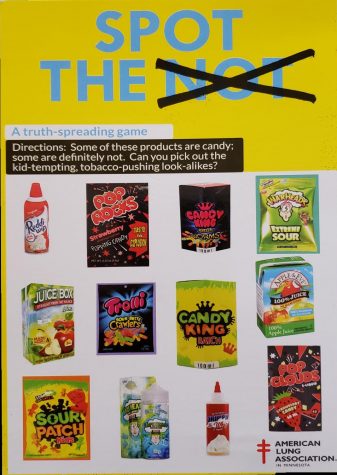 The packages of these vaping flavors even look a lot like the original ones, which makes it even more appealing to young people!
According to another anonymous junior, " I really like mixed berry because it contains salt nicotine."
Nicotine salts are even more addictive due to the higher rate of nicotine going into the bloodstream.
Due to 39 deaths throughout 24 states and over 2000 cases of vaping related injuries, the Trump Administration has banned all vaping flavors that appeal to teens and adults, according to an article at nypost.com
Some people are still not changing their habits, regardless of the news. An anonymous junior at SHS said he continues to vape because, "It hasn't affected me yet." He said that he believes "it could be that the people who have died from vaping nicotine were allergic to a chemical in it."
Although Juul pod flavors are being banned throughout the nation in stores and gas stations, Juul is planning on selling menthol and tobacco flavors to help stop backlash from citizens throughout the U.S.


"About three-fourths of the 573 patients for whom information was available, reported using THC in their vapes three months prior to falling ill. About one-third used only THC products while others also used nicotine-containing products. About 13 percent exclusively vaped nicotine," according to sciencenews.com.  
Vitamin E acetate has been found in most of the THC vaping products. It is believed that the oil coats the lungs and makes it so they cannot exchange oxygen when inhaled state an article by lifescience.com, and is believed to be causing most of the deaths and illnesses caused by vaping, according to kplr11.com.
Many teens do not believe there is danger, and some believe that it is okay as long as it they are only smoking nicotine. 
"People aren't dying from vaping. They are dying from smoking THC," an anonymous SHS sophomore said.
However, regular vaping products that contain nicotine are still dangerous, as a 60 year old woman from Massachusetts has also died from vaping nicotine.
As of  Nov. 11, Juul has stopped, along with fruit flavors like the popular mango, the sales of the mint flavored pod, which was recently the best selling flavor throughout the U.S. says cnbc.com.
"Juul said on Thursday (Nov. 7) that it would continue to sell menthol pods and its two tobacco products," stated a Nov. 7 New York Times article.
Juul still sees the continuation of their product as helpful, not necessarily detrimental to its customers wish to stop smoking regular cigarettes.