Girls' soccer wraps historic season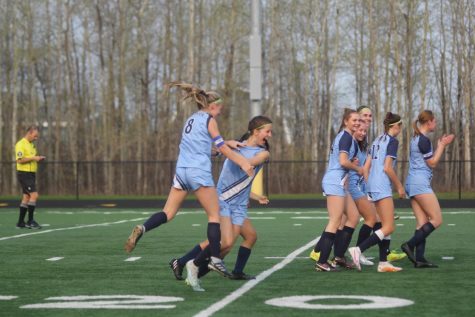 The girls soccer team had a historic season this year winning their first game in four years. The soccer team ended their season with a record of four wins, 11 losses, and one tie. The soccer team won their first game of the season on May 4, 2023 against the Menomonie Mustangs. After this game all of the players were so excited to see what the future held for them.
For the seniors on the team, this season was the first time that they had ever won a game during their high school careers.
"We are excited, we are ready to get more wins, winning is contagious so we're hoping to follow through with that," senior outside defender Presley Kalin said.
The soccer team is made up of mostly juniors and sophomores, with a few freshmen on the team. Two of the team's biggest scorers, junior Autumn Cooper and sophomore Anna Manion also have high hopes for next year's season.
"It was a very exciting win for the team as a whole, everyone has been working so hard this past season and the team atmosphere has ramped up. Hopefully we can use this momentum, and get a few more wins this season," said Cooper.
The girls soccer team is expected to have the same outcome for next season after losing only three seniors.