Ceramics class fosters creativity in students
The Ceramics art classes take a unique approach on teaching students how to use a less traditional art form as a creative outlet. Many students said they struggle with traditional art classes, feeling they don't have the skills to use traditional  mediums as their creative outlet.
Senior Mackenzie Marthaler, currently taking Ceramics II, said that when she took Art I, she  saw other students coming in to work on their pieces for ceramics, and that it piqued her interest. She joined Ceramics I the next year and said she loved it.
"I am not very good at drawing, so when I found an art subject that allowed me to display my creativity without drawing, I liked that," Marthaler said.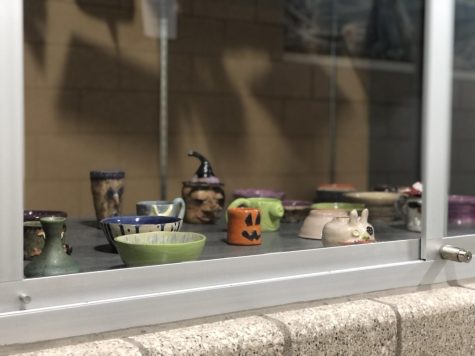 Ceramics is a form of art that works with clay. Ceramics I focuses on sculpting, whereas Ceramics II focuses on throwing, or creating with a pottery wheel.
This semester, art teacher Nikkee Francisco teaches students in Ceramics I and II. Students were asked to work on incorporating up to eight different textures. To do this, students have used a variety of objects and tools to create different patterns. Students have to think outside of the box to create unique patterns for their pieces.
"I have seen kids use the bottoms of their shoes," Francisco said. "Or if they're wearing a really neat sweater that has a pattern, we put plastic over it, and then they can roll their pieces or press their pieces into the fabric and get something pretty cool."
"And that's the nice thing, is that students have so many more ideas than what I would come up with. So you know, every class you have 10 or 15 people that are going different directions coming up with stuff and finding ideas," Francisco said.
Senior Gabrielle Siers said that she enjoys Ceramics, as it gives her a creative outlet. She enjoys being back in the classroom and working hands-on again. Siers says that everyone in the class has their own ideas, and sometimes draw inspiration from each other. She says that she highly recommends taking ceramics. 
Francisco said that a lot of students in ceramics aren't in many other art classes. She believes that it's because it's more hands on, and requires a lot more strength than other art classes. She also says that Ceramics I and Ceramics II are vastly different. Ceramics I focuses more on sculpting and small details, but Ceramics II focuses on the use of the pottery wheel.