One Acts Brings Holiday Spirit Back to the Stage
The theatre department's return to the stage with the One Act opening night for their rendition of A Christmas Carol on Thursday, Dec. 2. The show started at 7 p.m. and ended just before 9 p.m., and the night was filled with holiday cheer for all. 
Charles Dickens' famous story about Ebenezer Scrooge (a man who has only distaste for Christmas and all things that don't have a dollar sign in front) and his visits from spectres of Christmas Past, Present and Future, was beautifully performed – complete with a folk dance number and a rendition of We Wish You a Merry Christmas at the end. 
The lighting crew excelled with expertly timed blackouts, eerily flickering lights during scene changes, and colored lights to set tones. Set designs were expertly made with hand painted fruits, vegetables, meats, walls, fences and wheelbarrows. A full fireplace set – complete with hanging frying pans, shelves, and working lights – was quickly wheeled into place during the darkness. This did cause some technical difficulties that the crew had to overcome.
The crew also had to learn how to manage Christmas Future, a puppet, is about 15 feet tall and towers above the stage.
"The scene with Christmas Future is much harder than it seems. It's a delicate puppet, if you do one thing wrong it'll all fall apart," stage manager and sophomore Lily Holmquist said.
Crowds were thrilled to see the return after a full two years without theatre on the stage, showing it with a standing ovation for the cast and crew at the curtain call. The department performed again on Friday and Saturday of the same week at 7 p.m.
"Get ready for some Christmas spirit in your cold, cold hearts," director of the play and theatre teacher Amber Gilbert said.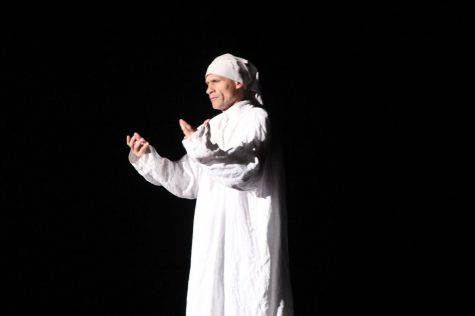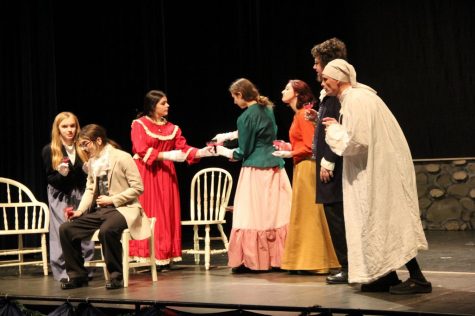 Updated on Dec. 7 at 12:29 p.m.