SHS Home Swim Meet
The Superior High School Varsity and Junior Varsity Swim and Dive Teams faced off against the Proctor-Hermantown Varsity and Junior Varsity teams at their SHS home pool on Tuesday September 21st. Before the meet, Proctor-Hermantown Coach John Nelson said, "It'll be an interesting meet." Jeanine Peterson, mother to two of the SHS team swimmers agreed, "It's always close with Proctor."
There were a total of twenty two events. Ten were for Varsity, ten were for JV, one was combined, and one was for the divers. Event 1 was for the diver's as there were only two, both from SHS, and each scored well. After Event 11, SHS had won five of it's events compared to Proctor-Hermantown's six. The total point score – which included the scores for diving, the team who won each event, whether members of the varsity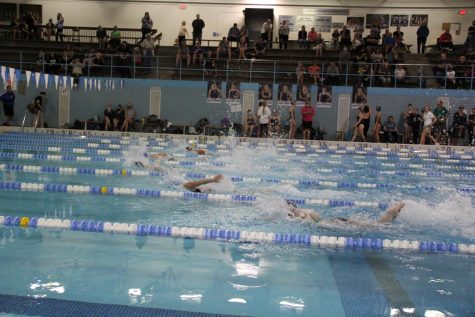 teams did better than the JV event winner, and each personal swimmer's time – was tied at 39:39.
After all the events, the winner was announced. SHS had won a measly nine events total while PH ruled that arena with thirteen. All was not lost yet considered the plethora of details that went into the final score. Everyone waited patiently as the points were tallied up, but the tension was visible. During the meet, it was deafening, but now you could hear the water dripping onto the deck.
With a final score of 93:77, Superior won this meet! The few who chose to take extra time to see how many events each team won would have never predicted it. The SHS Swim and Dive teams cheered happily and took a celebratory jump into the dive pool. Meanwhile,  the Proctor-Hermantown team congratulated them which shows how much swim truly is a family. Even when they are on different teams, the support and cheer each other on before, during, and after a meet, no matter the outcome.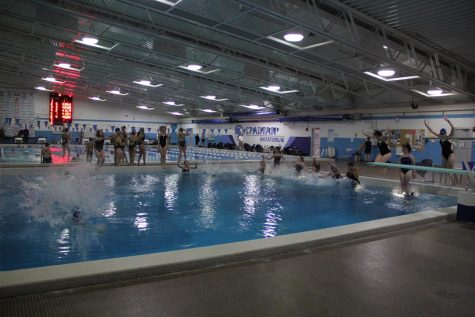 With this win, Superior can look forward to getting a step forward in the competition and their journey to the State tournament.