Prom during a Pandemic
Instead of a formal dance, Prom this year was in the form of a grand march, dinner and even a talent show due to COVID-19. SHS Seniors were invited to attend Prom with a date of their choice April 24.
"Since we were unfortunately unable to have a dance for the students, hosting the annual Pledge Makers talent show during Prom seemed like the best option to make Prom more entertaining for students. Prize money for the talent show was increased to first place winning $700, second place winning $500, and third place receiving $300," said pledgemakers member Grace Hansen. 
The talent show was the main entertainment that was provided during Prom, as it mainly replaced the dance that would normally take place at Prom. 
 "Prom was fun even despite the changes from years before. I especially enjoyed seeing my classmates smile and I also enjoyed the amazing food as well," senior Jon Kaske said, one of the 113 students who attended Prom this year. 
While in normal years, there would be a Prom committee to plan out the specifics of Prom, this year most of the planning was done between SHS Principal Rick Flaherty, Krista Soderstom, and Deana Wells. The most important part of the planning was how students would maintain a safe distance from each other, for the duration of Prom.
 "Kids had to wear their masks other than when they were eating, as well as when they were walking down the aisle at Grand March," Prom committee advisor Deana Wells said.
The tables were spaced apart in the commons where students were eating, as well as the seating during Grand March. 
According to Flaherty the main safety measure that was taken for Prom was not having an actual dance for the students, due to too much close contact. 
"We tried the best to do social distancing with the separate tables with only spots for two people as much as possible. Kids were mingling of course and having a good time and such- so it wasn't quite perfect in that sense, but we tried to keep that in mind while also maintaining social distancing and such," Flaherty said.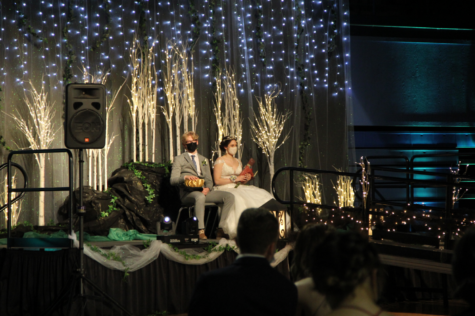 A more typical aspect of prom took place in that there was a crowning of Prom queen and king. Katrina Jones and Joe Lehto were crowned after being elected last year through a google form, after last year's Prom got canceled.
One of the main events that was completely different from other years of Prom, is serving dinner for the students. Director of Food Service, Jamie Wilson and a crew of cafeteria cooks from all over the school district- including highschool, middle school and elementary school cooks- came and helped out by serving food to the students. 
"We had eight food service staff for the day of Prom and about another four that helped prepare the day before," Wilson said. The menu for Prom consisted of an array of appetizers, a pasta buffet with grilled shrimp or chicken, and a wide assortment of desserts. 
"We definitely had a smaller prom then we've had in the past but the kids that were here had a nice time and it was fun to dress up the building and to show what we can really do," Flaherty said.
The night ended with Julian Robbins winning the first place prize for singing in the talent show. Traxx Nelson-Kavajecz took second place, with the help of his sister Rockin, with another singing performance. Finally, in third place came Joselyn Dolsen with another vocal act.