Savannah Vig's Outdoor Adventures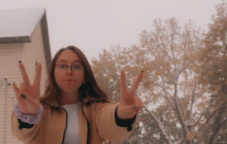 Though most people don't want snow and ice in the middle of October, sophomore Savannah Vig is already preparing her favorite fishing spots. While she isn't doing much to stand apart from the crowd in school, after school, she can be quite active. One thing that she does in quite a bit of her downtime is fish, a lot. While everyone in her family fishes, where they fish is a secret. 
"We call it Lake Wish-You-Were-There because you wish you were there," Vig said.
When fishing with her family, she normally catches panfish and bass. Her favorite person to go fishing with is her dad, though she most commonly goes with her brother, Andrew. Together they go ice fishing during the winter, as well as boat fishing during the other seasons.
Though she enjoys fishing, she finds other ways to have fun too. When out fishing, she also likes to go swimming a lot. She swims in between fishing as a way to have fun and cool off, especially during the summer. 
While ice fishing, her family took a four-wheeler and would ride it across the ice while dragging a person on a sled behind them. After fishing for a while, her family would take their chocolate lab on the frozen lake and have snowball fights during the winter. While ice fishing, Vig is always the first one to the tip-up, and she has even had an experience where all 5 of their tip-ups went up at the same time. http://rusbankinfo.ru
During the other seasons, she likes to go freshwater fishing, where she normally likes to use her rapalas and bobbers for her bait. A few years ago, while she was out fishing with her dad, he caught an amazing 52-inch sturgeon. Everyone in her family talks about this amazing feat to this day, though they all recount the story in their own way.
 While Vig normally is reserved to dock and pier fishing, her brothers Andrew and Taylor like to go kayak fishing. Vig does not go kayak fishing, but she does enjoy kayaking every now and then and has even picked up paddle boarding recently. 
Vig often likes to go hiking as well, and she hikes along trails like the Lake Superior Trail in Duluth. She likes to take her time and enjoy the scenery, though her family's hiking expeditions serve another purpose. Her family normally likes to go hunting, and the hiking trails are a great way to explore spots to hunt, and possibly find new places they haven't thought of trying before. However, Vig has yet to go hunting this year, and stated she is rather bummed about not even getting the chance to fire her gun, let alone go hunting. It is clear that Vig enjoys being in the great outdoors, as well as all the activities it holds, and she is sure to have many more years of fun and exploring to come.