Students show killer moves at the snow week dance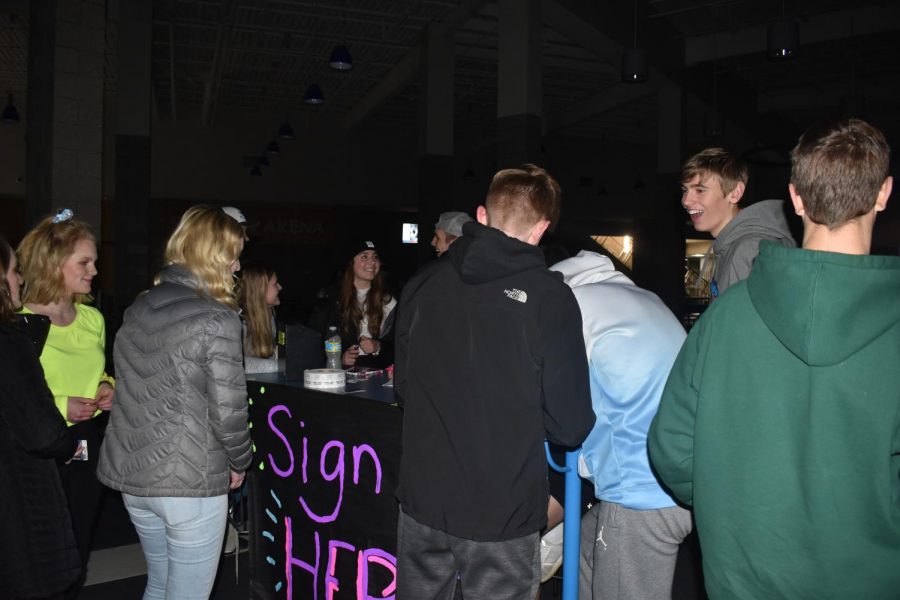 By Abbigail Avery and Armella Lane, Reporters
February 20, 2020
The Student Council held an informal, end-of-Snow Week dance Feb. 5. They chose a blacklight  theme and featured glow-in-the-dark effects. 
"This is the first time it (an informal dance) has been approved in a long time," Student Council member George Hansen said.
When students walked into the N1 entrance they saw a sign that said "Caution: Killer Moves." They were greeted by student council members who checked IDs and signed them up for the snow week assembly raffle.  A DJ table was stationed in front of the library windows. To top of the decorations and assist with the darklight effect, the east staircase was covered by a white panel with neon paint splatters.
The decorations for the dance had not arrived on time, so the council had to improvise and come together to create decorations for the dance out of black paper and markers. Student council member Faith Lach even ran to Menards to get neon duct tape, which they then scattered on the floor.  
Students arrived wearing white, green, yellow and pink neon shirts. 
Off to the side of the dance floor was the food and drink table with free chips, soda and water. 
The DJ played songs such as "I Like It" by Cardi B and "FEFE" by 6ix9ine. When the song "Give Me Everything (Tonight)" by Pitbull played many students loudly sang along. More attendees got into the action with "Cupid Shuffle," dancing along to the moves in the song. Some other songs that played were "Right Round" by Flo Rida and "Hips Don't Lie" by Shakira. At times student council members would crowd around kids and start dancing. There were even a couple of conga lines throughout the night. 
"Personally, I tried my best to get the other members to get excited about (the dance) and to ask the other students in their grade if they want to go to a dance  – to build some energy around it and to bring something new and fun to the school. I wanted to give students something to look forward to in the long winter months," said Noah Lear, Student Council president.
According to Lear the dance had just been approved 2 ½ weeks before the actual dance occurred. The student council had then decided to make the theme of the dance blacklight, and along came the name, "Snow in the Dark."
"At first, there were only small groups throughout the commons. Towards the end everyone came together to dance," Lear said.
According to Lear he is looking into having another informal dance late in the spring after prom.