Board considers senior project changes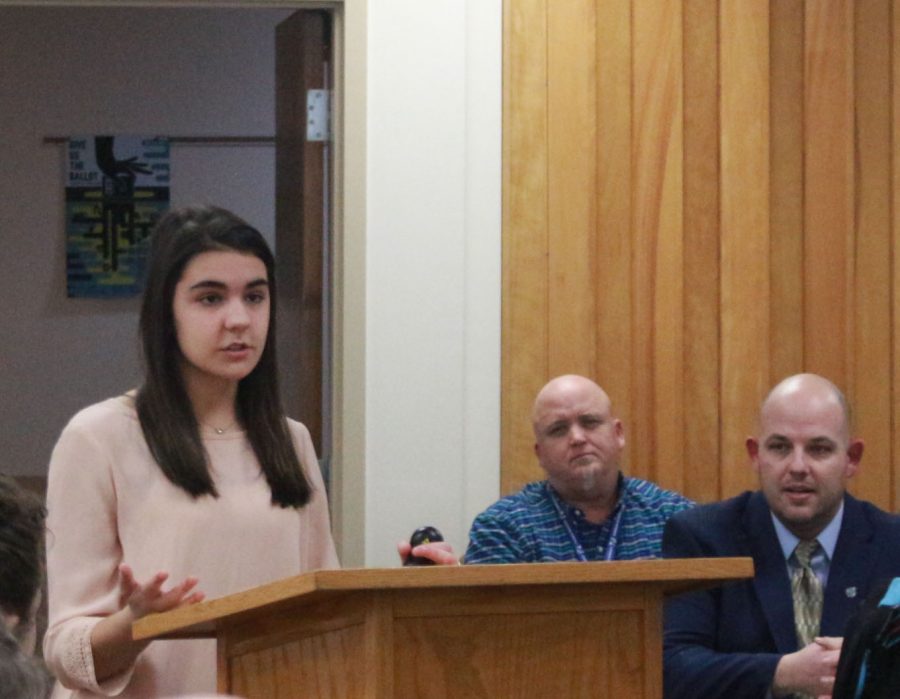 By Armella Lane and Garrett LeBare, Reporters
February 13, 2020
The Board of Education held a committee meeting Feb. 3. where they discussed changing the senior project requirements, which has not changed within the last 15 years. Senior project manager Rob Scott and Principal Rick Flaherty are working to remove outdated components and make changes to help this become a more valuable experience for students.
"Our goal is to ensure that all students are career and/or college-ready. We want our students to leave being leaders in our community." Scott said in his presentation to the Board of Education.
The biggest and most different change is that the senior project will begin for students in their freshman year and then continue to have components up until their senior year. Along the way students will attain benchmarks during the year so that way they are better prepared when it comes time to complete the project prior to or during their senior year.. 
"We want to scaffold it all the way down. We can have a service-learning component and a career research component that will lead to job shadowing within our community," Scott said.
Currently, seniors can choose one of three different projects: self-development, service-learning and career research. But in the 2020-21 school year, self-development will no longer be an option. 
"There is no doubt that learning a hobby or a skill has tremendous value, but the consensus we are finding from talking to people across our whole community is career research and service-learning are going to prepare our kids better to be successful," Scott said.
With the removal of the self-development piece, Scott explained, students will, perhaps, be able to "major" in one area and "minor" in another. So if a student were to major in career research, they would minor in service-learning. 
Another important change is that instead of having a mandatory essay, the senior project now will require a student to construct a resume built on experiences throughout their high school career. This will hopefully make students more college and career ready. 
"What we are trying to do is give students more time to plan things out. We know that service-learning really should be more of a lifelong skill and not just a one-time thing that students do in their senior year," superintendent Amy Starzecki said.
Starzeki hopes that these changes will be more meaningful and give students stronger skills and make them a better college student or employee. 
"Our goal is to be more aimed at students and less toward test scores and ACT scores. Students are more than just a test score," Starzecki said.
School board member Christina Kintop is also looking out for students that don't always show their learning well with tests, but can often better show off their skills within a project. She sees these students as a value to Superior and the surrounding area.
"Another aspect is that the community needs to know exactly how much money these projects are generating and raising," Christina Kintop said.
Kintop wants to raise more awareness on the senior projects that help out the community. 
One senior project, by Hannah Dudsic, was a Toys for Tots fundraiser that generated over $2600, and countless toys. 
"Don't procrastinate, get it done as soon as you can," Dudsic said.