Shut-outs, Scuffles, and first goals fuel Spartans drive to victory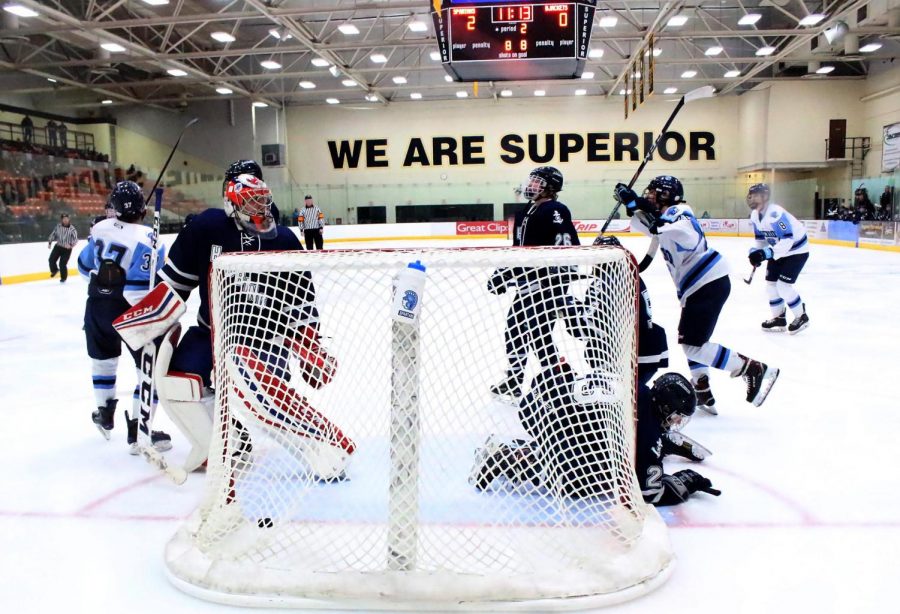 By Jared Running Jr., Reporter
December 12, 2019
The Superior Spartans boy's hockey teams were in action against the Hibbing-Chisholm Bluejackets last night at Wessman Arena with the night's theme being White Out. In junior varsity who's game was at 5, the Superior boys came away with a victory scoring 5 goals to the Bluejackets 0.
The varsity would follow the trend of high scoring action with a final score of Superior 6 – H/C 4. Last nights scoring started out with a bang with a goal from senior Gunnar Hansen (9) with an assist from senior TJ Sitek (28) 13:14 into the first period, This was Hansen's fifth goal in five games played after missing the previous game at Hudson. 
The scoring would pick up again in the second period when junior Ethan Welch (11) scored with an assist from senior Kobe Hansen (3). Superior would strike again against H/C with a goal not even a minute later when sophomore Drew Nelson (37) scored with assists from G. Hansen and junior Drew Scharte (26). H/C would finally score themselves after the puck was handed to them due to having several penalties called on both teams 14:46 into the second period. 
After time ran out in the second period, a small shoving match between Superior captain Gunnar Hansen and H/C's #23 broke out resulting in both players being pulled away by their teammates and officials. The cause for the scuffle is still unknown, but neither player was kicked from the game or received any penalties for this. Fight pics 
The scoring would then settle down after Superior struck on the powerplay with a goal from senior Alex Hanson (14) with assists from G. Hansen and Scharte 39 seconds into the third, this was Hanson's first goal since freshman year. 
H/C would respond a little over a minute later in an act of vengeance against Superior, leading to a response of their own from Superior when A. Hanson scored his second goal of the game this time unassisted only three minutes after his first goal of being on the team in over three years. Superior struck one last time when G. Hansen scored on the empty net with 56.1 icing the game for Superior. Gunnar Hasen finished 2 goals and 2 assists on the night on this performance "They had a bad goalie and me and my linemates took advantage" Hasen said.
Top 3 players of the game were Gunnar Hansen, Alex Hanson, and Drew Scharte. Gunnar Hansen finished with 2 goals and 2 assists on what was behind this performance. Alex Hanson finished with 2 goals. Drew Scharte finished with 2 assists. All other players helped to contribute to the win.
Spartans improved their record with the win to 3-3-0 on the season. They go on to play Two Harbors Thursday, Dec. 12, at Wessman Arena. JV plays at 5, and Varsity at 7. 
Superior……………1-2-3–6
Hibbing-Chisholm………0-1-3–4
Hibbing-Chisholm outshot Superior 17-28
SHS goalie Jamin Durfee had 24 saves while H/C goalies Vitek Vozdecky had 9 saves, Evan Radovich had 2 saves totaling 11 saves.
First period — 1. SHS, Gunnar Hansen (TJ Sitek), 13:14. 
Second period — 2. SHS, Ethan Welch (Kobe Hansen), 5:00 (shorthanded). 3. SHS, Drew Nelson  (G. Hansen 2, Drew Scharte), 5:47. 4. HC, Ethan Lund (Mitchell Ziemba, Joe Allison), 14:46 (4-on-3).
Third period — 5. SHS, Alex Hanson (G. Hansen 3, Scharte), 0:39 (powerplay). 6. HC, Ziemba (Blake Frider, Lund), 1:39. 7. SHS, A. Hanson 2, (unassisted) 3:40. 8. HC, Ziemba (Allison, Kasey Kemp), 9:03. 9. HC, Ziemba (Allison, Kemp), 13:35 (5-on-3). 10. SHS, G. Hansen 4, (open net) 16:04 (even).