Girls' Hockey bounces back with win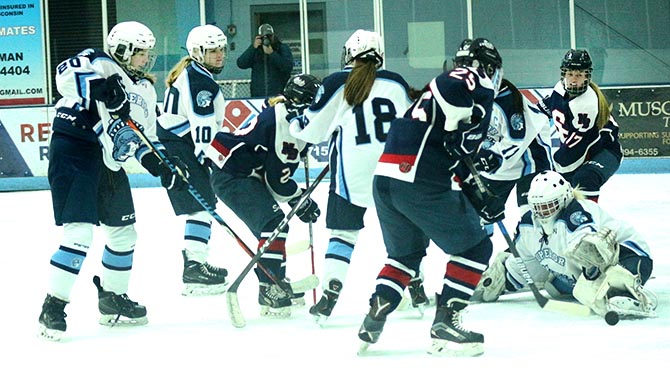 The Superior Girls' Hockey team took on the St. Francis/North Branch Fighting Saints, Nov. 26 at the Superior Ice Arena. The Spartans fell behind in the first period but came back with a vengeance in the second.
With an early goal in the second period, Superior scored once again bringing the game to a 2-2 tie. Junior Arika Trentor chipped in the score with an assist from junior Brooklyn Burger.
A 10:03 goal in the third period from junior Lucy Drougas assisted by sophomore Gabby Siers put the Spartans ahead 3-2.
With just over three minutes left in regulation, freshman Madelyn Franta made the final point with an assist from Drougas and sophomore Lily Walrath. This point brought the Spartans up to a 4-3 lead.
"It's pretty exciting to have my first goal and be supported by my teammates," Franta said. "I just got opened up, got passed to, and saw where the open net was to shoot." 
Assistant coach Doug Trentor seemed to be overjoyed with the win and said that there were positive things that helped bring in a win. Doug said that the Spartans came out and fought hard to gain the win. He said that the girls got the puck deep, played hard and played beneath the goal line.
Doug Trentor also gave words of inspiration to his team at the end of the game. 
"Way to go, keep working hard, and we will come back tomorrow," Trentor said.
Superior's record is 1-2 and will play Chippewa Falls Dec. 2 at Chippewa Falls Ice Arena. The game begins at 7 p.m. 
Stats:
Superior(SHS)……………1-1-2–4
St. Francis/North Branch(SFNB)………. 2-0-1–3
SFNB outshot Superior 28-21.
First period – 1. Lucy Drougas, SHS, (shorthand), 3:56; 2. Brooke Stearns (Abygail Spitzer), SFNB, 13:50; 3. Abygail Spitzer (Brooke Stearns), SFNB,14:08.
Second period – 4. Arika Trentor (Brooklyn Burger), SHS, 1:26
Third period – 5. Lucy Drougas (Gabrielle Siers), SHS, 10:03; 6. Jenna Kurkowski (Kali Olson), SFNB, 12:07; 7. Madelyn Franta (Lucy Drougas, Lily Walrath), SHS 13:27.
Saves
– Laura Boersma, S
t.Francis/North Branch, 17; Katrina Casper, SHS, 25.
Penalties
First period – 1. Keely Morehouse, SHS, (Trip), 2:25; 2. Gabrielle Giving, SFNB, (Trip), 10:50; 3. Liberty Boese, SFNB, (Interference), 16:00.
Second Period – 4. Lucy Drougas, SHS, (Interference), 11:27.
Third Period – None