A special game comes with a special theme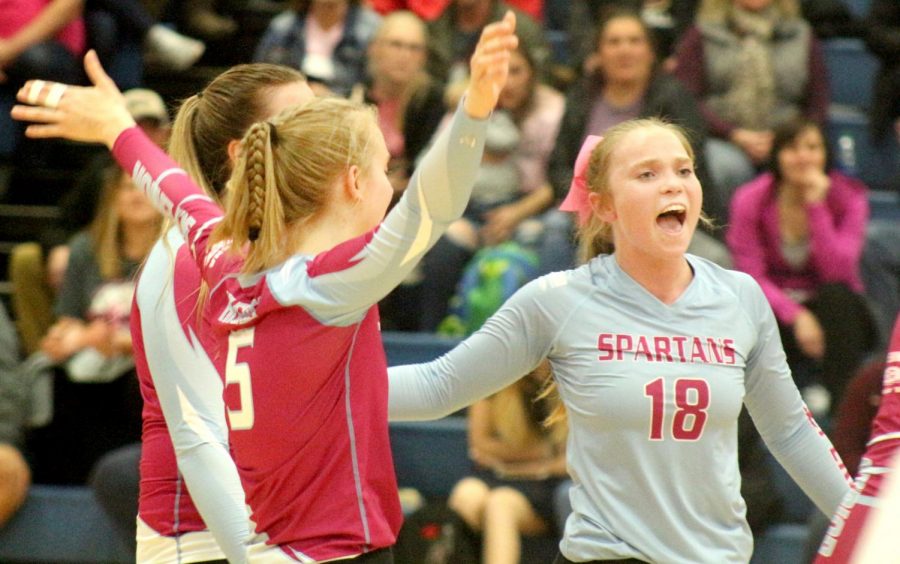 By Matthew Nault & Benjamin Hunter, Reporters
October 16, 2019
The Superior Spartans Volleyball team made the last regular-season home game one to remember at the main gymnasium last night. The "Dig Pink" game was dedicated to people who have breast cancer or have had it affect their life in one way or another. The team and everyone in attendance wore pink to spread awareness for breast cancer.
The volleyball players gave out flowers to the people in the crowd who have been affected by breast cancer. Each volleyball player and manager on the team gave out two small pink volleyballs to their favorite fans that came to the games.
The volleyball team was dominant in their match against Denfield, only taking three straight sets to get a victory. A strong opening in the first set by the Hunters was quickly calmed down by the Spartans as they rallied back. 
Superior ran away with a lead to win the first set 25-18. Their momentum carried over into the second and third sets. The team fed off the crowd's energy as they roared to life after each point scored. 
Sophomore Makayla McMeekin has started to become a key player for the volleyball team. McMeekin said her favorite part of the game, "was seeing so many people come wearing their pink apparel and supporting a great cause." She also said, "It's always fun to hear everyone cheering and supporting us."
Moving forward, the Spartan volleyball team has an overall record 17-14-0 with a conference record of 3-4. 
The Spartans received the #9 seed and will travel to face the # 8 seed of the New Richmond Tigers next Tuesday Oct.24 beginning at 7 pm.