Diving into Superior's diversity in the schools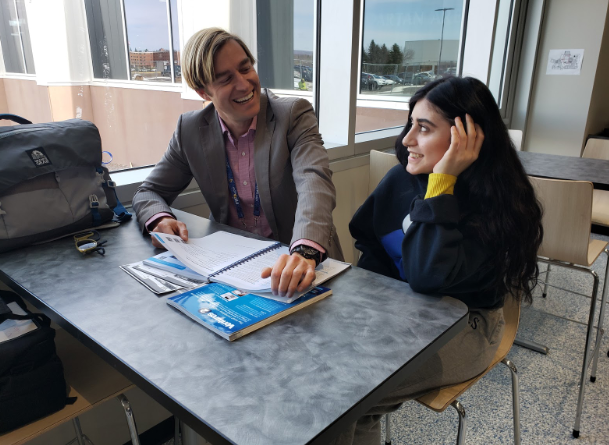 By Arix K. Ryan, Reporter
May 22, 2019
Christopher Pascone is an English as a Second Language Teaching Assistant at Superior High School. Not only does he work in the high school, but he also works at Northern Lights Elementary, Lake Superior Elementary, Great Lakes Elementary, and Superior Middle School. Overall, Pascone works with ten students on a weekly basis. Among those students, there are five different non-English native languages.
Mr. Pascone is fluent in Russian and French but has also studied Norwegian and Czech abroad. He has been working in the Superior School District since last November. Prior to that, he spent many years traveling and living in other countries.
He lived in Russia for 14 years and taught at St. Petersburg State University for nine of those, then worked for a professional Russian soccer club named FC Zenit. Last summer, he was able to volunteer at the FIFA World Cup in Russia. He also studied in Norway for two summers and in the Czech Republic for a summer.
Speaking about how his students learn English in the United States, Mr. Pascone noted the determination it takes to learn a foreign language. "It's a lot of work. It's very demanding. You really have to be determined. It takes mental toughness. You've got to learn not only the language but also the local culture in order to understand the people and the way they speak. Not only what the words mean, but the people's attitudes, their gestures, and their psychology," Pascone said.
"I really want both my students and the American students, who I don't work with directly, to see that there is an international presence in our schools and that it's a good thing to have," Pascone said. "Even though ESL students aren't a big population in Superior, there are definitely students in our school system who face, every day, the reality of 'Okay, I need to go to class in a language that is not my own native language, how do I do that?" Pascone said.
The anxiety and struggle that comes with learning a language and culture is something most of us are not familiar with, as well as something we may not even think about. Pascone believes it's important to know and appreciate that we do have students at Superior High School who are adapting to new customs and a new language. We all can sympathize and acknowledge what kind of struggles our international students face daily. Pascone's students work with him until they are able to reach a level of English comprehension to be able to succeed in class.
"Please don't think that my students are somehow inadequate, or behind – that's not the case at all. The students I work with are doing excellent work, and I see huge improvements. I'm really proud of my students considering that they have to face the whole cultural side, the whole adaptation to school in a foreign country. These people are heroes to me. It's my honor to work with them. They're really good, cool, young people. They're the stars. They're the ones making all the effort," Pascone said.
In regards to what these students may be feeling, Mr. Pascone shared his own experience from trying to learn Russian from scratch in St. Petersburg: "It blows your mind. It's so difficult to begin, you feel very low self-esteem, like 'I can't say anything, nobody understands me.' You feel like a loser. It's a wicked tough entry point to get going and get on your feet in a foreign country where you don't know the language very well. I really respect my students and understand what it is to go to school every day and just fight to survive, to learn the language, to make friends, to understand the teachers. What a huge task that is, and my students do it very well. They're very capable. People are naturally very adaptable, so it can definitely be done, but I'm happy I'm here to kind of help them along on their way," Pascone said.
Living in foreign countries opened his eyes to how interesting it is to learn new cultures, and made him realize he wanted to help foreigners make it in our country.
"Now that I'm living in the United States, I want to do a job like this that integrates non-native English speakers into our society, because I respect and empathize with them so much, and want to help them on their way. I know what an amazing challenge it is to make it in a foreign country. The experiences I've had just make me want to be there for these students," Pascone said.