SHS students bring their talent to the stage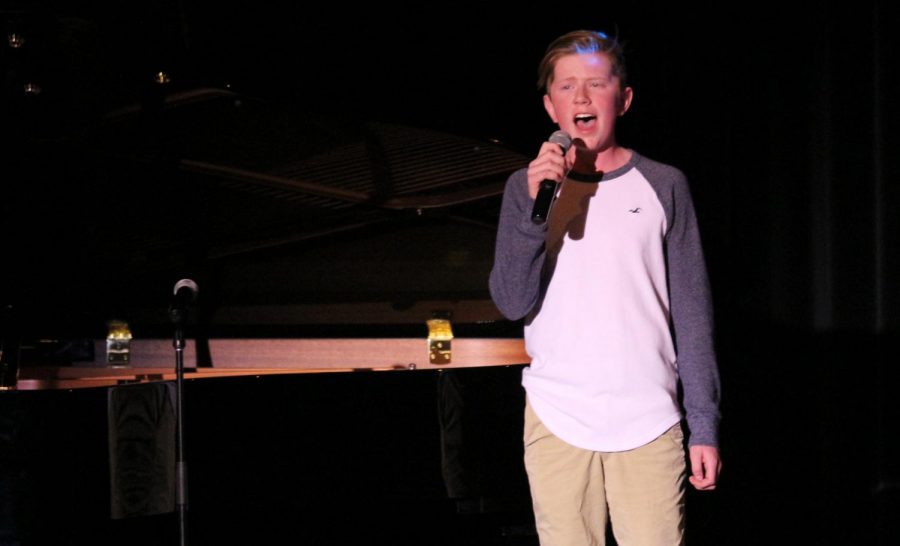 By Nadia Sutherland, Reporter
April 30, 2019
The Superior Spartans Pledge Maker board put on their annual talent show on April 24 at 7 p.m. in the Performing Arts Center. This year's talent show featured 20 acts, and over 100 students and relatives came to watch the performers.
Freshman Hayden Wilson took first place, singing "Love Someone" by Lukas Graham and winning the crowd over once again with his voice. The crowd went wild whenever Wilson hit strong notes during his performance.
"I thought Hayden's performance was really consistent, and he is super good for being a freshman" said Junior Evan Wearing, who watched the show.
Wilson's winning performance came just weeks after impressing the crowd at Grand March with his performance of "Shallow" by Lady Gaga featuring Bradley Cooper. Wilson took home a grand prize of $500.
Wilson won by a 4 percent lead in front of second place winner Senior Dylan Evavold.
Second place winner senior Dylan Evavold performed two songs while playing guitar, and piano. The first song that Evavold performed was "Behind Blue Eyes" by The Who. Evavold's last performance of the night was a return home for him. The song that he performed was "Leaving on a Jet Plane" by John Denver, and it was also one of his first public performances at a talent show in 8th grade.
"This song is important to me, because in two months I am moving away for college," Evavold said.
For the first time ever there was a tie for the third place with junior Ben Hintzman and Freshman Natalie Sandor as a duo on piano and junior Ivan Zambori dancing to "Come out and Play" by Billie Eilish.
"I think your last name should be talent," Spanish teacher Doris Waletzko said to Junior Ivan Zamboris after her performance.
In total the pledge makers gave out $850 to five people. The first place winner took home $500, second place took home $250, and the third-place prize of $100 was split between the two acts.