Making an impression
Senior Kyle Thomas can perform voice impressions of television show and movie characters.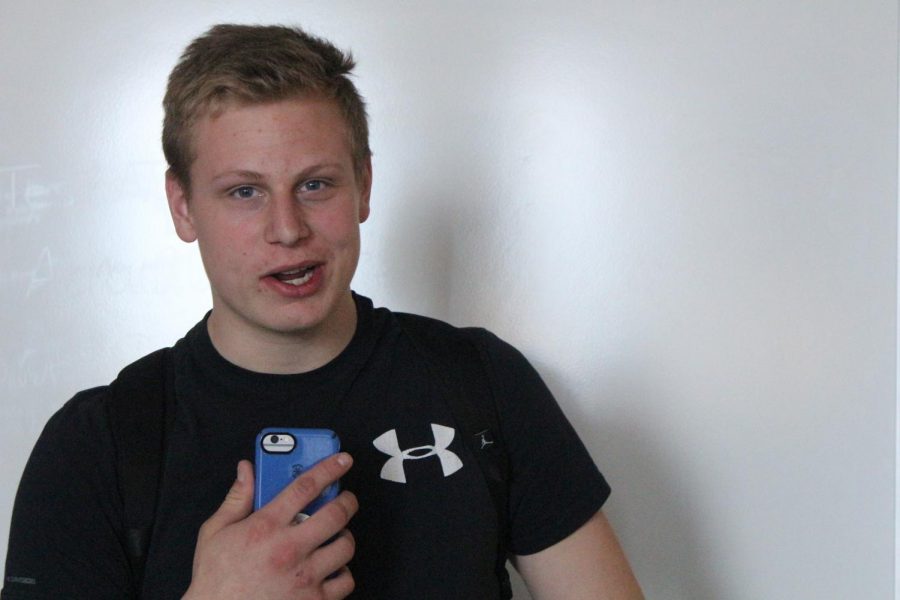 By Megan Jaszczak, Reporter
May 6, 2019
Senior Kyle Thomas often finds himself breaking out into impressions mid-conversation. With the ability to do almost 20 character voices, Thomas finds it hard not to switch voices in daily dialogue. After some encouragement from friends, he even performed a few of his impressions in the Performing Arts Center for the "Pledgemakers got talent" show on April 24. He loves making people laugh with his jokes and impressions.
Thomas has been working on his impressions since 2013 when he discovered that he could speak just like the character Joe Swanson from the television series "Family Guy." Through watching shows and movies while speaking with the characters, he learned to do voices like Stitch, Mickey Mouse, Arnold Schwarzenegger, and Kermit the Frog.
"I started getting into the groove of trying to watch the shows and actually do the voices," Thomas said.
After a couple of years, he was able perform the voices of almost every character on "Family Guy" including Peter Griffin, Stewie Griffin, Glenn Quagmire, and Cleveland Brown. He most enjoys voicing Stewie, which he often does in public with friends or as a greeting to strangers walking by.
Even just going out to eat, Thomas will find himself voicing out one of his characters to entertain strangers. He shared that he'd go to Arby's and speak to the workers as Stewie, or go into a bar and try to cheer people up by doing impressions of scenes from "Family Guy."
"I walk up to random strangers that I don't even know, and they just get a kick out of it," Thomas said.
Although this is currently just a hobby for Thomas, he plans on making a career out of his work with impressions. He's followed people like Seth Macfarlane (creator of "Family Guy" and voice of four characters) and Jay Pharoah (known as the king of impressions) perform as a living.
"I've seen other people make this into a career," Thomas said. "Why don't I try?"
Thomas wants to make his career more interesting than a regular "nine to five job." When it comes to his future of impressions, Thomas considers Macfarlane and Pharoah his inspirations. He's able to do table reads like Macfarlane, in which he'll start a conversation as one character, then switch voices smoothly as he reads through the script.
"It's super hard not to do my voices when I'm speaking to somebody," Thomas said. "I can't even control it sometimes."
Thomas loves bringing extra joy and laughter into the lives of others through his impressions. He says it's his way of bettering himself while brightening everyone else's day.