Boys takes third, girls fifth at Packy
Boys' track takes third and girls take fifth at annual meet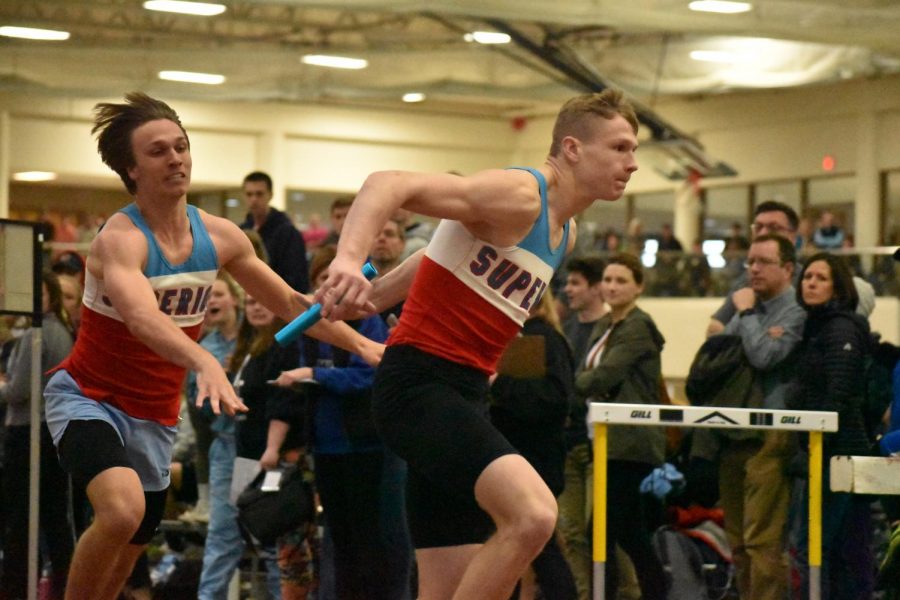 By Dayton Podvin, Reporter
April 8, 2019
On April 5, Superior hosted the annual Packy Paquette track meet at the Marcovich Wellness Center at UW-Superior, with 22 high school teams competing. The annual track meet is dedicated to a former track and field competitor from Superior, Francis John "Packy" Paquette, who died in a car accident at the age of 19 in 1968.
Ashland girls and Rice Lake boys claimed this year's first place title.   
For the girls' side, the Ashland Oredockers won with a score of 116.50. Coming in second place was the Hayward Hurricanes with 97.50. Third place was secured by the Rice Lake Warriors with score of 84. The Superior Spartans came in fifth with a total score of 59.50.
The Rice Lake Warriors won the boys' half with a combined score of 121. Behind the Warriors were the Eau Claire North Huskies with 109 points. Superior finished in third with 96 points.
The girls' MVP was Kary Petricka of Eau Claire North. Petricka took first in the 55-meter dash, long jump, 220-yard dash and second in the 4×400-meter relay. She also set a meet record with a time of 7.47 seconds in the 55-meter, breaking the 2015 record of 7.52 held by Lauren Magnuson of Superior.
The boys' MVP was Marquez Cleveauz of Rice Lake. He finished first in the 220-yard dash, long jump, 400-meter dash, and 55-meter dash. With his performance, he broke the meet record in the 55-meter dash with a time of 6.54 seconds. The old time of 6.65 was held by Arik Skifstad of Eau Claire North since 2018.
The Superior girls' 4×800-meter relay placed second even with a mix-up, as one of the runners ran five laps instead of the required four. The situation was cleared up with the cameras that monitored the race, which proved that the girls indeed got second. They finished with a time of 11:24.49.
"I think our race went pretty good. We were seeded for second place and we ended up taking second place which was a surprise to everyone," senior Jennifer Nummi said.
For Nummi and senior Shannon McCoshen, it was their first podium experience.
"I thought they did really well, they were aggressive," girls' head coach Samantha Wilson said.
The boys also showed greatness as senior Jackson Karren got first in the two-mile, known as the 3200-meter run. He finished with a time of  11:16.35. McCoshen also placed third in the girls' 3200-meter run with a time of 13:47.66.
Senior Nathan Anderson finished third in the 55-meter hurdles with a time of 8.38 seconds. Junior Jarrett Gronski also finished third in the 200-meter hurdles with a time of 27.64.
Sophomore Carter Fonger, senior Steven Pearson, junior Noah Benson, and junior Brady Herbst finished second in the 4×200-meter relay with a time of 1:38.51.
Juniors Brennan Morrissey, Iain Matheson, Jarrett Gronski and Noah Benson placed second in the 4x400m Relay with a time of 3:45.80.
Superior boys 4×800-meter relay finished third with seniors Luke Denninger and Landon Lathrop, freshman Shane Leask and sophomore Tyson Yliniemi clocking in at 9:38.91.
Fonger placed third in the 55-meter dash with a time of 6.76.
Superior girls 4×400-meter placed third, with junior Hannah Craker, senior Marcia Mogensen, sophomore Molly Lenmark and Nummi combining for a time of 4:31.30.
Mogensen took third in 55-meter dash at 7.83 and second place in the girls' long jump with a jump of 16'6".
Mogensen also won the 200-meter hurdles with a time of 31.89. The 200 hurdles is not traditionally held at most meets but it was kept in the lineup because the meet's namesake ran it during his track career in the 1960's.
Sophomore Adrianne Krueger placed second in the 55-meter hurdles with a time of 9.76.
The Spartan's next meet is April 11 at the NBC Sports Complex. The meet will start at 4 p.m., and competing teams will be Superior, Two Harbors, Esko and Duluth East.