Pledge Makers light up badminton courts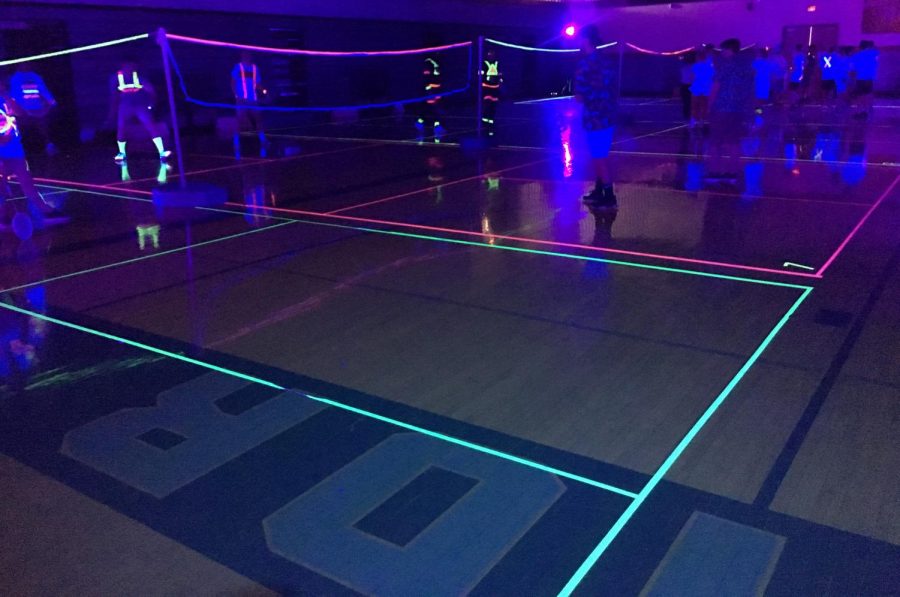 By Zachary Leno, Reporter
April 1, 2019
The Pledge Makers brought something new to their event line-up with the introduction of Black Light Badminton on Friday, March 22.
Team Cookies and Cream, consisting of freshmen Robert Olson and Tristan Brennan, won the top prize of $300. Second place for $200 went to team Tom and Caelan with seniors Caelan Wick and Tom Erickson. Junior Joey Barker and sophomore Kaden Kimmes finished in third place for $100 as team Fro ad Schmo.
"It was a really fun time and I sure will be back next year,"  Brennan said.
The club's members requested this event heavily and the group hoped that the turn-out for this night would be record-setting. When it was all said done, 100 high schoolers participated, with 50 teams of pairs taking whacks at the birdies.
"People have been asking for Black Light Badminton for a while now," sophomore Pledge Maker board member Shelby Bresnahan said. "Our favorite part of hosting these events is the excitement that comes with it."
The Pledge Makers, a club at SHS supporting the absence of drugs and alcohol in teenagers lives are rewarded with pizza, fun games, and events such as Black Light Badminton, the Talent Show, Black Light Volleyball, and the Hypnosis shows.
The Pledge Makers have some other things planned for the rest of the school year. They will have a Talent Show on April 24 and are discussing some other possible events for the end of the 2018-19 school year.