Spartans move within one game of State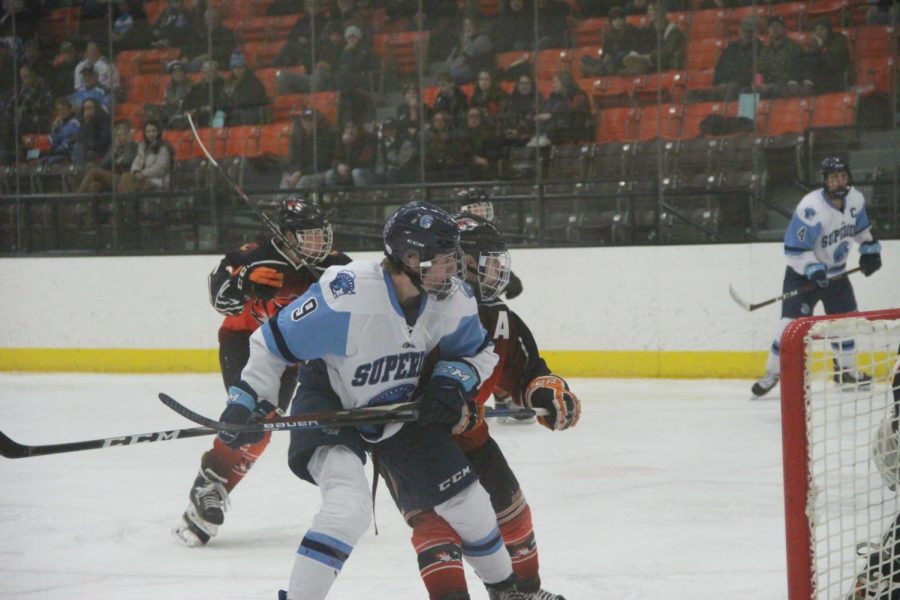 By Madeline Stroup, Reporter
February 20, 2019
The boys' hockey team snagged a win tonight against the New Richmond Tigers in the WIAA Section 1 semifinal at Wessman Arena.
The Spartans started off with a power-play goal from junior Gunnar Hansen 5:11 into the first. Later in the period, a loose puck got past senior goaltender Dayton Podvin, which senior Derrick Mattson was able to slide in and slap away just inches away from the goal.
"Our defensive zone was strong. We only took 11 shots, that made it easy. Poddy played great," said senior Grant Sorensen, forward left wing. "Our goaltender, he's had 2 shutouts, so that really helps us a lot and brings energy to events".
With 50 seconds remaining on the clock in the first, senior Max Curtis put a wrist shot through the five hole of New Richmond goaltender Max Davis, but the goal was called back due to a man in the crease. Superior wrapped up the first with a 1-0 lead.
Goals from senior Taylor Burger and a second goal from Hansen increased Superior's lead to 3-0 at the end of the second.
"Our boys battled hard, they never quit for one second. Superior really goes to the net. We weren't ready for that. They are a really well passing team, which we were thrown off by," Tigers head coach Zach Keir said.
A full strength score in the final period from senior Cayden Laurvick and a power-play goal from junior TJ Sitek sealed the Spartans' 5-0 win.
This brought home the second straight shutout for Podvin, who ended with 11 saves, and the second playoff win for the Spartans. Davis ended with 43 saves for the Tigers.
"We need to work on our offensive zone entry. Our defensive play was good, and our seniors played hard. They know there's a lot on the line for them, and they've been dreaming about state for a long time now" said Spartans head coach Jason Kalin. "The team feels really good about Saturday's game".
The team is now looking ahead to Saturday, when they go head to head with the Hudson Raiders for a spot in the Wisconsin State Tournament. The WIAA Section 1 final will start with the puck drop at 2 p.m. at Wessman Arena.