Spartans freeze Icemen in playoff opener
Malita Villamayor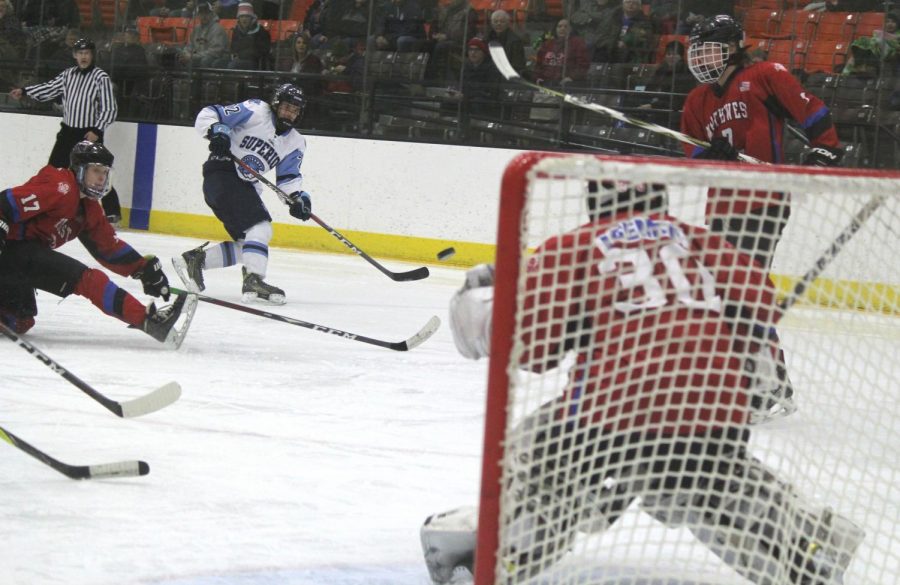 By Malita Villamayor, Reporter
February 15, 2019
The boys faced off against the Northwest Icemen for their WIAA Regional Final hockey match-up last night. Finishing strong after a fast start, the Spartans won 7-0.
Junior Gunnar Hansen, assisted by junior Sean McCoshen, made the final shot as he flung himself toward the net at 16:35 in the final period. This was just minutes after senior Taylor Burger sniped a goal.
Senior Cayden Laurvick also scored at 9:55 in the final period, with assist from junior Gunnar Hansen and senior Grant Sorensen. Burger also scored at 4:37 in the same period, assisted by McCoshen and senior Trevor Dalbec.
Just seconds after the third period began, Laurvick gained possession of the puck and flew towards the net before attempting a shot on goal. Saved by Northwest goalie Jonah Becker, Sorensen would net the biscuit at :18, assisted by Laurvick off the rebound.
Cheering from the Spartan fans could be heard echoing throughout the arena with every goal, and the pep band's school song was never far behind.
The first goal of the night would be scored by Hansen at 7:55 in the first period, assisted by Laurvick and Sorensen. Senior Derrick Mattson would follow suit and net his first goal of the season with a wrist shot at 10:22.
At the end of the game, Superior fans erupted as the final buzzer sounded, celebrating a the victory and their team advancing to the WIAA Section 1 semi final.
Superior will take on New Richmond at 6 p.m. Tuesday at Wessman Arena for a shot at the Section 1 final.