Spartans sweep Hunters on the hardwood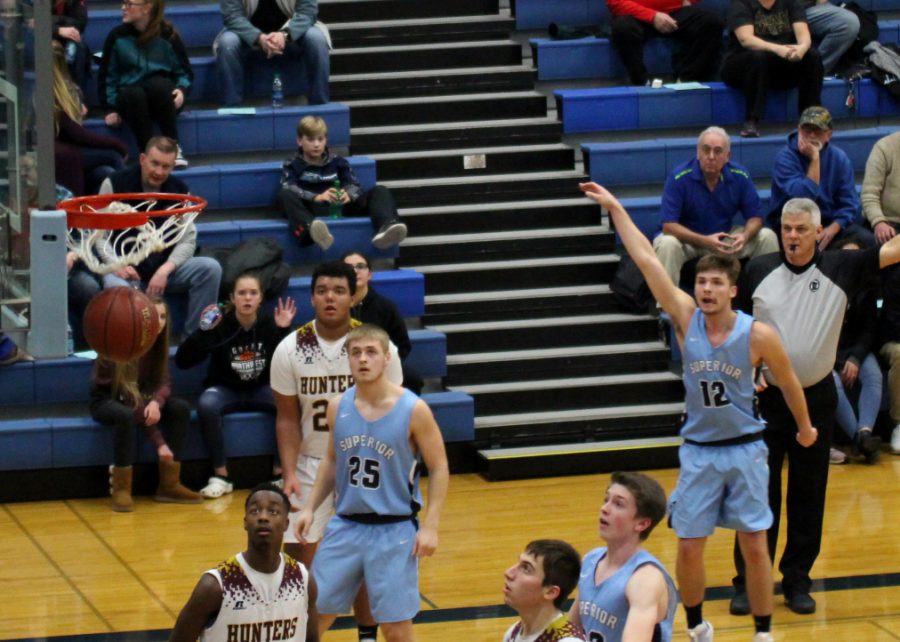 By Judd Erickson, Reporter
December 7, 2018
The Spartans boys' basketball teams won a trio of games in Superior against the Duluth Denfeld Hunters Dec. 6: C-Team 54-23, JV 65-57 in OT, and the varsity squad picking up a 93-68 win to cap off the night.
Senior Beau Severson kicked off the scoring with a layup within the first minute. Then Denfeld junior Armon Freeman answered back with a layup of his own.
Senior Mason Ackley dunked with 9:54 remaining in the first half sparked a 23-9 run for Superior, giving them a 40-26 lead going into halftime.
"We got our hands on balls, getting deflections, which lead to fast breaks, and a dunk by Mason, which obviously gets everyone going," head coach Jake Smith said after the game.
The Spartans did not look back after a strong first half, outscoring the Hunters 53-42 in the second half. Ackley scored 16 of his game-high 26 points in the second, and Xavier Patterson pitched in 13 of his 23.
With the Spartans up big in the second half, some of the younger players got their chance to shine. Sophomores Draden Jensen and Jonny Rhodes both got in and scored their first varsity points. Jensen finished with 7 points and Rhodes scored 4.
"It was a really chilling moment. I was really nervous and excited," Rhodes said. "Now that I've got my first points, I won't be as nervous and I can just be me."
Alongside Ackley's 26 points and Patterson's 23, Severson scored 18, including four 3-pointers.
Denfeld junior Joe Cvancara led the Hunters in scoring with 23, followed by senior Antonio Mack with 13.
"It felt good to beat them. Us and Denfeld are pretty close, so it's always gonna be a rivalry game," Patterson said, "just getting the win felt great."
The Spartans improve to 2-2 (1-0 Lake Superior Conference) and will travel to Chippewa Falls to take on the Cardinals Dec. 11. The JV team climbs to 3-1, and the C-Team moved to a perfect 4-0 on the season.