New percussion ensemble starts year off with a bang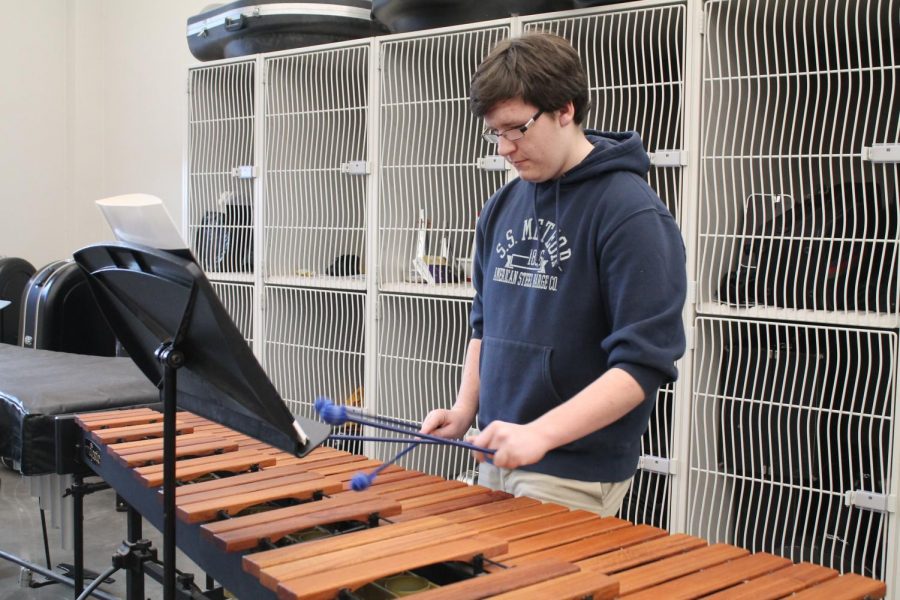 By Malita Villamayor, Reporter
November 26, 2018
Senior Jaxon Hoffmann counted off the ensemble to begin the opening lines of a sight reading exercise in the band room on Oct. 9. Of course, this wasn't one of SHS's usual musical groups. This year marks the first in many that the band has its own percussion ensemble, and it's being led by Hoffmann himself.
"I saw a few videos on youtube of other groups doing it, and it looked really cool. So, I thought it would be something fun and interesting to do against the stress of school," Hoffmann said.
Beginning on Oct. 9 and meeting every Tuesday, the ensemble is hoping to practice 2-3 pieces to perform in the upcoming Solo-Ensemble competition.
"We have 5, but I'm only looking at 2-3 because a couple of them don't have enough parts for everyone, and I want to get everyone involved," Hoffmann said.
Because there are a lot of band-related ensembles in SHS, band teacher Joe Kasparek isn't able to oversee some of them personally, especially ensembles focused on a particular instrumental group. This includes the percussion ensemble.
"I step in to help sometimes, but I'll let students who are capable lead the group," Kasparek said. "I can't be everywhere."
Of course, teaching a group of 10 students without prior experience isn't easy.
"It's a lot more challenging than I thought it would be, to say the least," Hoffmann said. "But this is as much a new experience for me as it is for everyone else that's in it."
Unfortunately, due to scheduling conflicts as well as the Lunch and Learn ban, they've only had 4 practices so far on Oct. 9, Oct. 16, Nov. 6, and Nov. 13. Figuring out the setup and making time for warm-ups has also decreased the time to practice their pieces, but the logistics are being figured out with each practice.
"We just need to stay focused now that we're starting to meet consistently," Hoffmann said. "The most important thing for us now is to stay on task."
One member of the group, Senior Allison Avery, is actually not a percussionist, but a flutist as her primary instrument. For her senior project, however, she's working towards learning the snare drum. While she hasn't played it in the ensemble yet, she's already found benefits in working with the ensemble.
"It's helping me keep time and it helps me keep count for longer sections," Avery said. "In snare music, there are no long notes like flute music."
In flute music, there are sometimes sections where the player only has to play and hold a note for a long period of time. In percussion parts, there is no "holding a note." Often times, they have to keep complex rhythms and beats that require them to pay attention to both the current and future parts of the music
Other percussionists in the ensemble really enjoy the community they have with each other, as many of them are already friends. All of them have already gotten to know each other because they all — naturally — play in the percussion section.
"I like that it's percussion-based only," senior Jackson Karren said. "I really enjoy being with the people there; I'm friends with a lot of them."
While he isn't always able to be there, Kasparek has been looking forward to creating this ensemble for quite some time. Even with the beginning-of-the-year hiccups, there's no doubt in his mind that they'll be ready for the Solo-Ensemble competition.
"Oh yeah. They'll get it ready in time," Kasparek said.
While there's still time before March arrives, competition dates never are as far off as they seem. Even so, the relationships they already have with each other might be the very thing that pushes them forward to be successful in the future.