We won't stand for this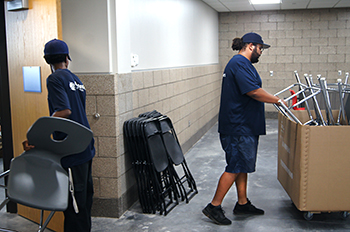 Hang on for a minute...we're trying to find some more stories you might like.
As the new school year started, many teachers were lacking chairs, especially for the mid-height desks. In the first week, students found themselves sitting on the floor, standing next to tables or simply using old chairs and stools they found. Teachers received various emails saying that chairs were on the way; however, the dates were continuously being changed.  
The art rooms were a different story. None of the three art rooms had any chairs in them for three whole days. Students grouped up and sat on the floor until Denise Carlson, an art and digital photography teacher, emailed Principal Greg Posewitz.
"The response was so quick, and he took care of it as soon as he found out," Carlson said.
The principles of Superior High School acted fast and delivered spare chairs from the old circle that was torn down this past summer.
" It wasn't bad but it would've been nice have chairs," Lance Mosier, a  student in Mrs. Carlson's advisory, said.
The students were not told much about the chairs, only about the recurring emails.
Once the chairs had finally arrived on Sept. 17, Cole Newman, a mover for Innovative, the furniture company, said,  
"We purchased a lot of new companies which has lead to a lot of new orders," Newman said.
Cole also said that this year has been one of the busiest. A total of nine people helped move the chairs in to the brand new school, and now, students have a better place to sit and learn.