Boys blanked in black out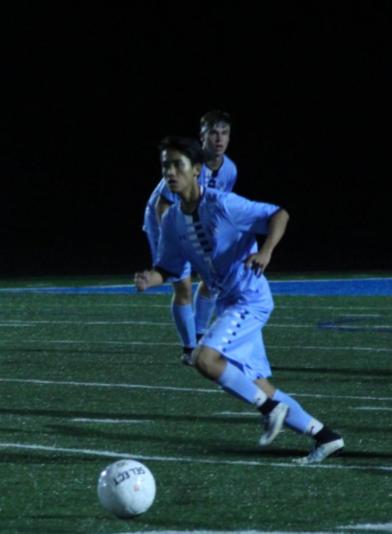 By Megan Jaszczak
September 20, 2018
At the boy's soccer game on Tuesday, the Spartans faced one of their most competitive opponents – the Cloquet Lumberjacks. Playing at the NBC Spartan Sports Complex, the Lumberjacks won this game 1-0. Since Cloquet had won the final game last year and gotten first in the conference (Superior got second), this game was expected to be a challenge. However, at the beginning of the season, the Spartans were not expecting to be missing two of their starting players: Brandon Conklin (#8, captain) and Steven Pearson (#20, defense), who were benched due to injuries incurred earlier this season.
"We lost a lot of speed and skill" said head coach Otto Berti.
Within the first three minutes of the game, both Cloquet and Superior had taken a shot on each others goals. By the 23rd minute, the Lumberjacks had scored a point. It was a very close shot, requiring two players to make the goal. The Lumberjacks' #19, Thomas Porter got the assist, letting the ball fly towards the goal, and #3, Scott Rousseau hit it into the net past goalie Cal Berti. Cal almost missed this game due to an injury, but had just been cleared in time to play. At the last game, Berti had been kneed in the face while trying to grab the ball, fracturing his cheekbone. He had just been cleared to play soccer Tuesday morning, and with 7 stitches in his face, still played for his team, only letting in one goal the entire game.
Shortly after the Lumberjack's goal, the Superior Spartans received a yellow card, temporarily taking one of their players out of the game. Freshman, Viet Nguyen (7) received a yellow card for being too close to one of the Cloquet players while they were taking a free kick. Although he had made a rule violation, Nguyen soon made a close shot on goal.
"We have a young team this year," Coach Berti said. He is "impressed with this year's team."
At halftime, Cloquet was still up 1-0, when the game was interrupted by a power outage. With only eight minutes left in the game, the lights went out all around the field. At about 8:30 p.m., the field turned pitch black, leaving the team and the fan section in confusion. By 8:34 the power came on in the press box, and the announcers said that the power would soon come back to the stadium lights. In just 11 minutes the first few lights began to illuminate and by 8:47 the Spartans and the Lumberjacks were back to their game.
The teams carried on with the last 8 minutes and finished the game at 80 minutes with a score of 1-0, Cloquet. The Spartans were scheduled to play Thursday night against Grand Rapids but the game got postponed. Their next game will be Saturday, September 22 at Eau Claire North.