Winter concert hits a high note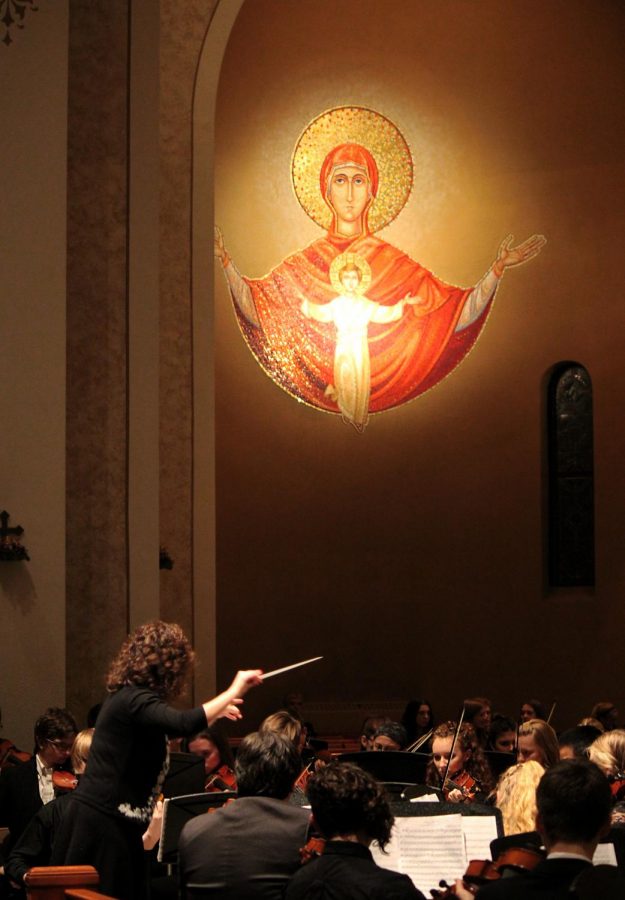 By Katherine Moore, Editor
January 16, 2018
Parents and supporters of the SHS music department made their way across icy roads to Cathedral of Christ the King on Monday, Dec. 18. Due to the PAC undergoing construction, the choir and orchestra held their annual winter concert in a new venue.
"It's such a beautiful space and it sounded so good," said orchestra director Amy Eichers. "That hall is really live, meaning it's got a nice echo to it."
It was difficult to transport music stands, instruments and students to Cathedral for practices, but the custodial staff and church volunteers pitched in to help. The volunteers were instrumental in making sure the concert ran smoothly by handing out programs and putting out the cookies for after the show.
The students themselves were dedicated to the show sounding good.
"They worked very hard to be up there," Eichers said. "They rose to the challenge and I am very, very proud."
The evening hit a high note at the end of the concert when choir director Rob Kalhoun invited members of the audience to join the combined choir and orchestra to sing the Hallelujah Chorus.
"I thought it was a glorious ending," Eichers said.
Dozens of people, students and concert-goers alike, stood side by side as their voices echoed into the sanctuary.
"King of Kings forever and ever. Hallelujah! Hallelujah!" they sang.