Becca's pumpkin ice cream pie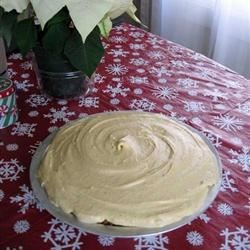 By Rebecca Lemke, Guest Chef
October 12, 2019
Hang on for a minute...we're trying to find some more stories you might like.
Recipe:
9 (2-inch) gingersnaps
1 cup pecans, finely chopped, plus halves for garnish
1/4 cup sugar
2 tbsp minced candied ginger
2 tbsp softened butter
1 cup pumpkin puree
1/2 cup light-brown sugar
1/2 tsp ground cinnamon
1/2 tsp ground ginger
1/4 tsp ground nutmeg
1 quart vanilla ice cream, softened, but not melted and whipped cream ginger cookies for topping
Directions:
Pre-heat oven to 425. Coat a 9-inch pie pan with cooking spray.
To make the crust, crush gingersnaps and pour crumbs into a medium bowl. Mix in pecans, sugar, and ginger. Mash in the butter with a fork until thoroughly combined and crumbly.
Spread crumbs into pie pan. Use a flat-bottomed glass to pat the crumbs along the bottom and sides. Bake 5 to 7 minutes, until lightly browned. Cool on a wire rack.
To make the filling, stir together pumpkin, light-brown sugar, cinnamon, ginger, and nutmeg in a medium bowl until smooth. Fold in the ice cream. Spread the filling in the crust. Freeze 3 to 4 hours, or until firm. Let the pie sit out for 15 minutes before topping with whipped cream, pecans and cookies.