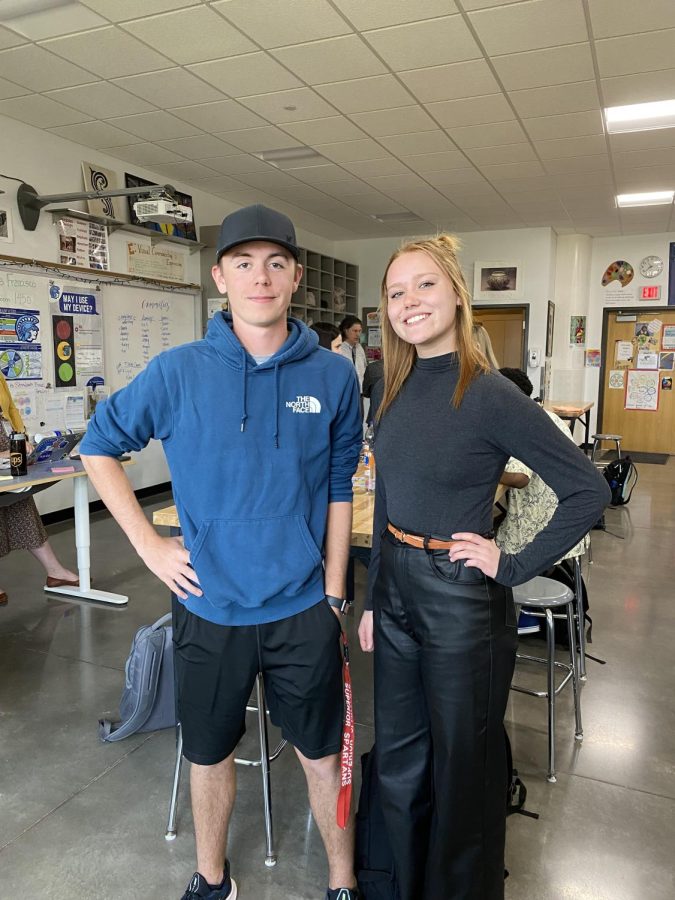 Presley Kalin
Since freshman year, Addison Aker and Aaron Johnson have been in student council. Both juniors are running for class president for the school year 2022-2023. This is the first presidential election since the 2018-2019 school year. On May 20 Aker or Johnson will be elected. 
"We tried a few new things this year with great success. I am hoping to see more student ideas come to life with the great leadership we have.  Both candidates made sure to reach the interests of the entire student community and because of that we have brought in new ideas and events," student council advisor Nikkee Francisco said.  
Both Aker and Johnson are looking forward to next year and the plans that they have in place. Student council is working towards making their events and activities more inclusive for the diversity of the school. 
 Aker said that she strives to improve diversity within the school. Addressing problems to the staff and administration is also a big goal of hers. She is also excited to sit in school board meetings, and address problems of the school from a student perspective. 
Aker said she wants to put, "less focus on our athletics and well known groups such as Pledgmakers, Student Council, and Hope Squad." She went on to say, "I want to see groups such as Black Student Union, Women Empowerment, and the art and music departments have more opportunities." 
Johnson also wants to make more events to be appealing to all groups and clubs. 
"I want to have more inclusivity in our events, I know we have some events but to have events that appeal to larger audiences not just a select group," Johnson said. 
Johnson enjoys all of the events that the student council puts on and likes working with other groups. He says it's one of his favorite things to be a part of.  
"I have been working on all of the projects with everybody. I did keep myself in everything the whole time, freshman year we started the haunted hallway. I was one of the people that had gotten that  going, more than just an idea," Johnson said. 
Only juniors are able to vote and voice their opinions on both candidates. As of 1:45 p.m. May 20, the Spartan Spin Exit Survey: showed that 63.4% said they voted for Johnson, and 36.6% said they voted for Aker. 
"I feel like Addison has done a lot for the student council and is extremely dedicated to what she does. She is also very open to other opinions and has a ton of ideas for new activities," one anonymous student said.
"I've known Aaron for a long time and I feel that he is an honest, trustworthy, and committed student. I know he puts his all into Student Council," another anonymous student said. 
Francisco is impressed with both candidates. She has watched both of them grow into a leadership position. 
"Over the past years I have watched Aaron become more confident in leading and reaching out to his peers. I have been impressed with Addison's organization and artist skills," Francisco said. 
Aker and Johnson are proud of each other. Aker describes how Johnson is her right hand man. Both are excited for next year and can't wait to work with each other despite the outcome.
According to current student council senior Nam Nguyen, the result will be posted on the student council Instagram page and emailed to all juniors by 4:00 p.m. today, May 20.