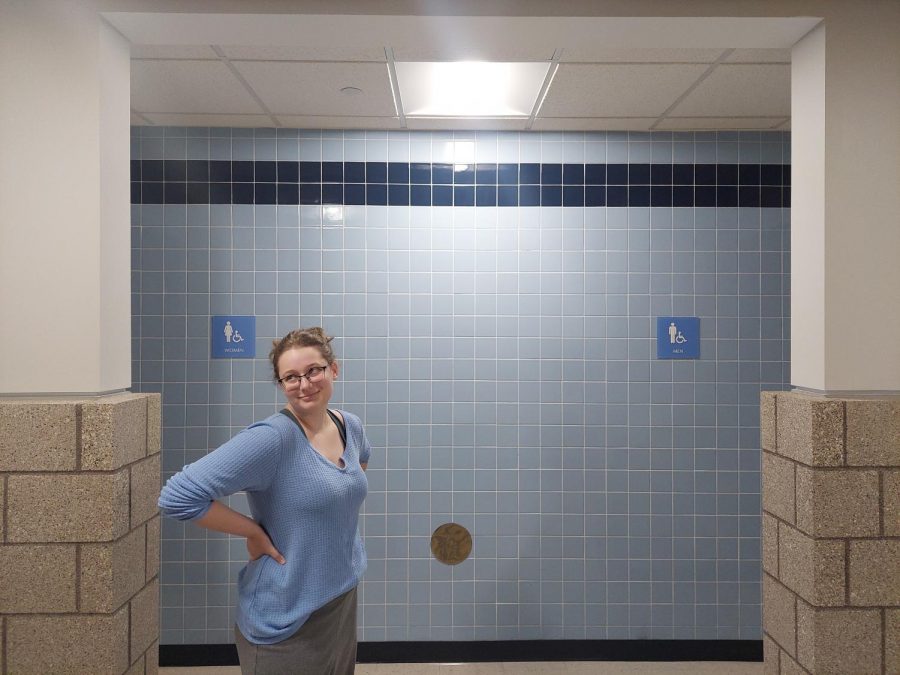 Owen Schilling
The design of the restrooms in the High School has sparked many complaints from students and teachers across the school.
On the upper floors of the school, the girls restrooms have three stalls. The boys restrooms have one stall and two urinals, and there are two individual restrooms shared between students and staff.
Some students do not feel comfortable using any of the restroom options available on the upper floors, meaning that they may have to travel to the first floor to use the restroom during passing time. Those students may only use the restroom in the nurse's office, for example.
"Honestly the bathrooms, down to the design really really suck, especially for trans students," said one student.
Another said, "Girls physically cannot be as speedy as guys and we only have three stalls for an entire floor. Sometimes there's a line literally out the door (up to 10 girls even)." 
If more than one boys restroom user needs to use the stall, they must either wait or choose a restroom on a different floor.
"I have noticed," says math teacher Matthew Kampa, "that students are often commenting that the restrooms are full or it took them a long time to use the bathroom because of how many other students were also trying to use the restroom during passing time."
The Spartan Spin released surveys to students and teachers to collect data on this topic. Over 250 responses were collected from the student survey, and 15 responses were collected from the teacher survey.
The surveys asked respondents if they felt students had enough time to use the restroom and be ready for their next class during passing time. Approximately 77% of student survey respondents responded "No." Teacher survey responses showed that 40% said "No", 40% said "Yes", and 20% were alternate responses.
"I feel there is enough time, but not enough bathroom space," was Kampa's response. He believes that 5 minutes is "more than enough time" for students to be ready for the next class and use the restroom, but that "with the limited space, it doesn't seem feasible."
Junior Kadence Larson does not believe it is an issue. When she sees that the lines are too long during passing time, she normally waits until the instructions are over and then asks to go. By that time, she says, the lines are normally clear.
Another strategy she uses is going to let the teacher of her next class know that she will be using the restroom in advance.
"…then," she says, "they know where I am and then I'm not marked." "I don't find it an issue, I just find it […] kind-of an inconvenience I guess."
Several teacher survey respondents mentioned this strategy.
"I think that is, that's the solution we have right now," says Kampa. "Ideally, [students] could just use the restroom during passing time – it wouldn't have to be an issue – but because of how we are and what, and what the situation we're in, that's the solution we have right now."