Orchestra's Meaningful Return
The theme for the concert is music and togetherness. For this concert, the SHS Orchestra and the Middle School's eighth grade Orchestra are combined to play a few pieces of music together.
"On Oct. 5, the eighth grade Orchestra and the High School Orchestra are going to the school forest to practice to prepare for the upcoming concert," Eichers says.
The Concert Orchestra, the most advanced Orchestra, is currently practicing the pieces Heart of Fire by Lauren Bernofsky, Enigma Variations IX: Nimrod by Edward Elgar and arranged by Mitchell Bender, and Danse Bacchanale by Camille Saint Saens and arranged by Jamin Hoffman.
Of the 19 people in the Concert Orchestra, there are eight violinists, four violists, four cellists, and one bassist.
"I have been teaching Orchestra for 19 years, I started Orchestra when I was in fifth grade. I'm also a member of the Duluth Superior Symphony Orchestra," Eichers says.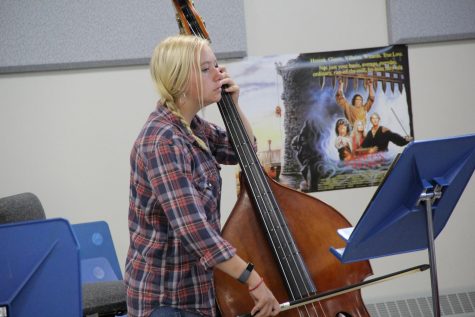 Paige Sanders is also another member of the Orchestra. She is the only bassist in the Concert Orchestra, so her role is very important. She alone has to make sure her music is on pitch because there is no one else to compare to.
Sanders has also been studying music from a young age. She played the piano when she was 4, and has played the bass since she was in 6th grade. Most recently, Sanders was accepted into a state honors Orchestra.
"I'm excited to play again as a full group, since last year was so unfortunate," Sanders said.
Concert Orchestra's secretary, Abigail Gavin, is a junior at SHS. Her role as a secretary is to take notes in meetings between other leaders in the Orchestra. Abby has been involved in Orchestra since she was in fifth grade. Since the 2019-2020 school year was abnormal, she is excited to be practicing together as a whole.
"I'm excited for kids to get back on stage in action, and prepare kids for a concert and meaningful return" Eichers says.