The Ford Extraordinary-line
The intent of the Ford Econoline was to be a rear wheel drive cargo van with a capacity of 256 cubic feet. But this Ford Econoline that belongs to Kaydence young, has a different purpose and appeal.
Kaydence Young saw the opportunity to buy a 2003 Ford Econoline E-250 with a 4.2L, 191 horsepower motor with 190 thousand miles in December 2020. Young leaped onto the opportunity and purchased it for 400 dollars. Young instantly started imagining all of the opportunities for her new whip.
"I've thought about turning it into an Uber, or traveling to different states and places," Young said.
A few unique installed to Young's van include an American flag on the drivers side wall, turquoise bean bag, laminate flooring, turquoise painted plywood walls and Young's favorite, a hand crafted, bench with hinged doors.
"The bench is by far the most meaningful addition because I built the entire thing by hand, and my hands alone," Young said.
The most expensive renovation was the flooring costing $45. All together, the renovating cost totaled at around $300 and was worth every penny.
Not every teenager has all of the tools to complete a project like this, neither did Young. With the use of her mothers boyfriends tools, she completed with solely her own labor.
" I started this project and I didn't want help, so I finished it working in the cold." Young said.
All materials that were installed in the vehicle were purchased from Superiors local Menards, and at affordable prices. Young started with a $200 but extended after the remarkable deals on materials.
"The paint was returned by a customer for being the wrong color so that was on sale, and the flooring was also a return that needed to be sold, but the flooring was the most expensive ringing up at around $45" Young said.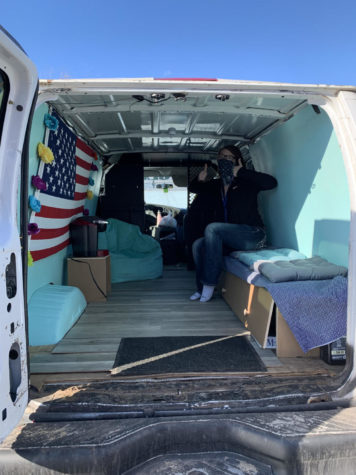 The most unique addition would have to be the Keurig coffee pot. Not only is this vehicle capable of being an Uber, it has the ability to serve a customer with a nice, warm beverage.
While the current use of Young's vehicle is a daily driver and to pull boats camping, future plans are to take the vehicle to Camp Crystal Lake in Michigan. This destination resembles the setting in one of Young's favorite movies, Friday the 13th.
"I have always wanted to camp at Camp Crystal to experience the creepy vibe it has." Young said.
Until Young's masterpiece quits working, she plans to continue adding or renewing pieces of the vehicle. Some future plans include spray painting rims, painting the body, new stereo system and any extraordinary addition that climbs into Young's head.