Same ball different season
Superior Volleyball Spartans had a rough start to their season with six losses so far. They lost to La Crosse Central 1-3. Since the Minnesota teams played in the fall, the Spartans are playing with new teams and they don't know their tactics. While last year they won six games in total and lost four games.
"I'm excited that we are back in the gym finally since they haven't been in the gym for a year," head coach Pluntz said. 
The teams the Superior Spartans will be competing against are Sparta, Washburn, Holmen, Eau Claire Memorial, Eau Claire North, and La Crosse Central. This season, they will be playing 12 games and also one tournament. The Superior Girls Volleyball team moved their season to the Spring due to the complications of COVID-19 in the fall and how the school was still making decisions about sports.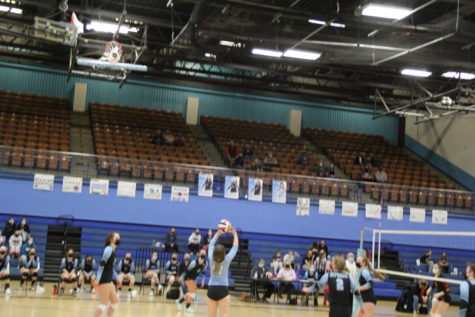 "Because we moved our season we are now playing teams we have never played before so this season will be new for everyone involved," Varsity Captain Drake stated. 
This year there are 13 students on the Varsity team along with three captains. The captain of the Varsity team is senior Hannah Drake and her position is Libero which are defensive and serve receive specialists. The Co-Captains are junior Lexie Lohman and junior Olivia Linden. Linden has the position of Middle Blocker. Finally Lohman's position is Outsider Hitter. 
Lohman mentions how the team is facing many challenges but "We have to face it, I feel our team is going to do very well this year."