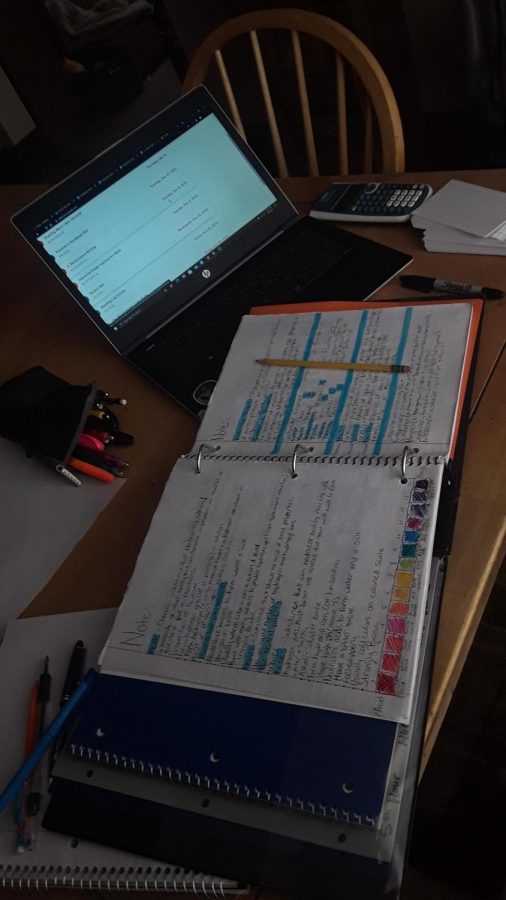 Mackenzie Busche
Throughout the 2020-2021 school year, teachers and students throughout the Superior School District, especially in the High School, have been facing many obstacles causing a lot of stress and anxiety. As the pandemic unfolds, teachers and students have been forced to face more issues that would have been unimaginable just a few years ago.
Due to the pandemic, learning has changed drastically. New technology platforms have been introduced to schools, therefore teachers and students need to adapt and learn how to use them. There have also been many updates to help guide teachers and students through the school year so far. Google has made many updates to help online teaching and learning easier.
"The updates to Google Classroom for breakout rooms were also super helpful," Chemistry teacher Angela Johnson said. "The fall went much better even during our virtual time due to new technology". Johnson has found that the new technology platforms have really helped keep virtual teaching more orderly and has helped keep students more on task. Besides the pros of technology, there have also been many cons.
"It was hard trying to see what the in-class learners were doing through a blurry computer camera…", Junior, Cydnee Chadwick said.
Many virtual students like Chadwick have been going through many of the same issues; blurry screens, broken microphones and cameras, WiFi problems, assignments glitching, etc. Teachers have also been going through the same issues.
Another issue for teachers, especially this year is the lack of student engagement. Many teachers have been very stressed with this issue. 5th Grade virtual teacher Chrissy Busche has said, "one of the most stressful parts of my day is the lack of student engagement".
Students often turn their cameras off, aim them at the ceiling, when they are called on they don't answer, and sometimes they don't even go to class to begin with. To keep students engaged, Busche has had meetings to let students talk to one another, and let them go into their own breakout rooms.
To keep students connected and engaged, Johnson made slideshows every week to make it easier for students to follow along, especially during virtual classes. When students were in-class learning, she made labs for students to interact with and assignments they could work with each other on.
Students have also put in the effort to engage and connect with their teachers. 5th Grader, Allison Maki tries her hardest to get all assignments in on time to be able to have 'Friday Fun Time' with her peers, she raises her hand as much as possible to keep the conversation moving.
To stay engaged and connected in class, Chadwick gets assignments in as early as possible, and she attends all of her google meets on time. But it isn't all as easy as it seems for some students.
Chadwicks' problems on virtual can get very stressful. In many classes, Chadwick has to improvise assignments because she doesn't have all the tools to do her work at home. This is an issue because many teachers don't understand her problems, and it's hard to ask questions over a google meet or email.
"It was, and still is, pretty stressful because the teachers don't always understand the problem or they expect me to get it done," Chadwick explains.
As the pandemic continues to change day by day, so do teaching and learning. Although teachers and students have become very stressed over these many issues, they have all found that they have learned many new things and have mostly changed for the better.