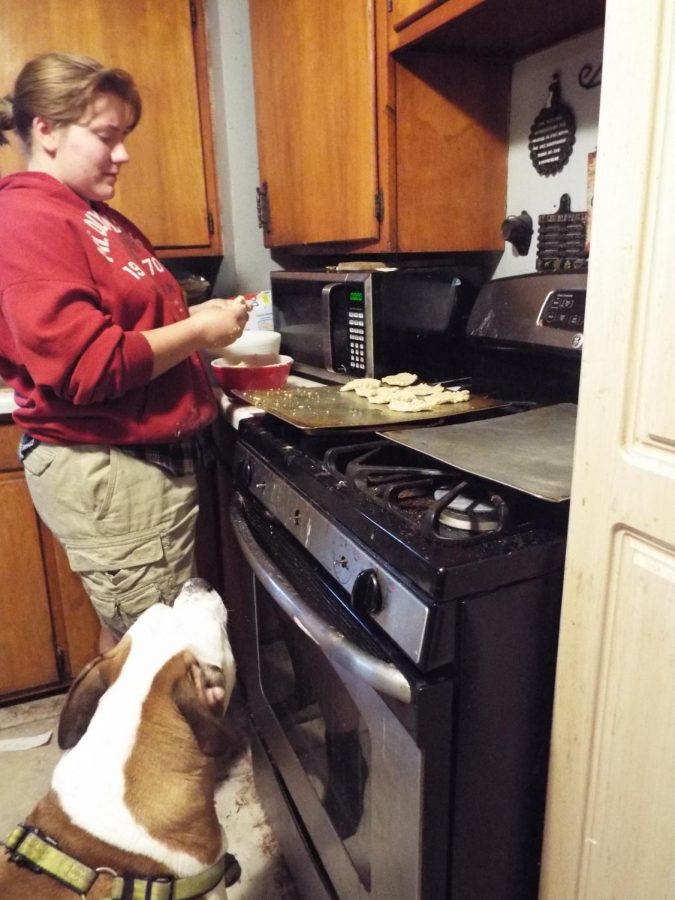 Photo submitted by Casey Engelbrecht
Along with toilet paper and hand sanitizer flying off the shelves, so has dog food and dog treats. To save money during this pandemic, my family has been making dog treats out of whatever we can find. 
We don't have a defined dog treat recipe. One time we used pumpkin pie filling that had been frozen since Thanksgiving and some old whole wheat flour we found under our cabinets. Combined with some peanut butter and eggs and our dogs were happy.
Another time we used unbleached flour and some mashed up sweet peas. We combined the pumpkin, peanut butter and eggs to mask the taste. Our dogs again loved the treats. 
Another time my mom wanted to try something different. We had so much rice in the house that our shelves were full of it. My mom wanted to see if we could put the rice in our food processor and make a fine enough powder to use as a flour. 
Below you will find our steps and recipe.
Equipment: Oven, food processor, dehydrator (optional).
Ingredients: 
2 Cups Rice (Brown preferably, but any kind is fine.)
½ Can of chicken
1 Can chickpeas (Do not drain.)
Steps:
Preheat oven to 350.
Chop up rice. Put rice in a food processor.
Dehydrate chicken. My family used a dehydrator, however, if you do not have one, set your oven to 200 degrees Fahrenheit, drain the chicken from the can, lay flat on a pan and bake until pieces are firm and dry to the touch. You want them to be as hard as possible. You can also mix the cooled chicken pieces in. Make the chicken into powder too. 
Take out the flour and put the chickpeas into the processer (yes, including the weird water inside the can). Make sure these are mashed.
Combine. Might take some elbow grease. 
Speaking of grease, do it to the pans. Shape into a thin shape. It doesn't really matter, they like it anyway.
Pop them in the oven for 20 minutes, take them out and flip them over. Bake again for 10 more minutes
Take them out and cool. 
Notes: My mom and I sifted the brown rice occasionally so that way we could get as much as we could. Also, add chickpeas very slowly. The dough is hard to fix if there is too much liquid.
Out of all the dog treats that my mom and I have made, our dogs liked these ones the best so I hope your dog does too.