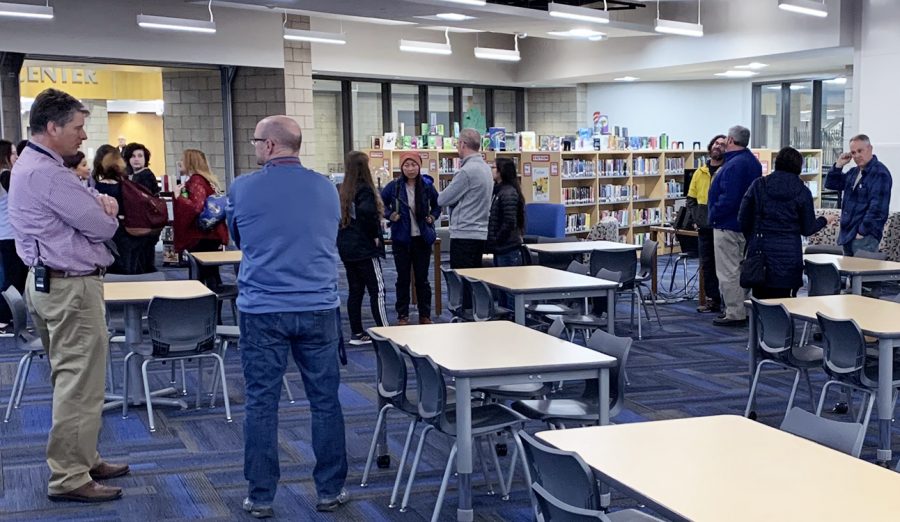 Matt Nault
THE VIRUS 
The Coronavirus (COVID19, the newest strain) has infected 127,863 people throughout 116 countries since 2020 and will continue to be an issue in the upcoming months as it's been spreading quickly. It was declared a pandemic of international concern by the International Health Regulations Emergency Committee of the World Health Organization (WHO) on March 11. 
According to Center for Systems Science and Engineering (CSSE) at John Hopkins University on their website arcgis.com at their page "Coronavirus COVID19 Global Cases," an estimated 4,718 people have died from the virus around the world. So far in the U.S. there have been 1,323 cases with COVID-19 in 45 out of 50 states. Thirty-eight citizens in the U.S. have died from the virus. There are at least 30 deaths in Washington alone, four in California, two in Florida, one in New Jersey and one in South Dakota. This data was last updated on March 12 at 8:33 a.m. and will likely be subject to change by the time this is read.
This virus is moving quickly and could eventually reach the Twin Ports. So far in Wisconsin, 6 people have tested positive for the Coronavirus.
"It's critical that folks don't panic. Risk to the general public is low. The vast majority of people who contract the virus will not require medical care. That being said, it's nonetheless important to be diligent and respectful of others. So if you're sick, stay home. Also, patients who are concerned about symptoms should call their primary care clinics," Public Relations Department of Essentia Health in Superior said.
WILL IT REACH THE TWIN PORTS?
The Twin Ports area is already preparing for the outbreak of Coronavirus. The hospitals of Duluth and Superior already have policies and procedures set in place if the Coronavirus spreads to the area. However, the hospitals would not close if the Coronavirus came to the Twin Ports.. 
"For months, we have been preparing for COVID19, or Coronavirus. And we continue to do so. Our staff is trained to manage infectious diseases. And we have standing emergency-response plans that we have tailored in order to be ready specifically for COVID-19. Work and collaboration are being done daily to ensure we're prepared to meet the needs of the communities in which we serve," Public Relations Department of Essentia Health in Superior said.
HOW IS IT AFFECTING SUPERIOR HIGH SCHOOL
Superior High School had to deal with their own public relations, beginning with the cancellation of the trip to Costa Rica yesterday. Spanish students going on the trip had a mandatory meeting in the library at 5:30 p.m March 11 where the students and parents were told the news.
"We continued our conversation and made the determination last night and this morning that the trip was not going to take place," Principal Rick Flaherty said.
Currently there are 22 active cases of COVID-19 in Costa Rica, up from 13 cases on March 11. Costa Rica is at a level 2 for regards to the number of cases of the virus and could possibly change to a level 3 within a week. This means if the students were in Costa Rica and it changed to a level 3, travel would be restricted immediately and they could possibly be stuck in Costa Rica for however long.
"All day today I've been thinking about it from a mom's perspective – I got a 22 year old, a 19 year old and a 9 year old – and what I know today talking with public health," Superintendent Amy Starzecki said. "I do not feel comfortable sending my kid out of the country in this crisis knowing they might not get back to me in a timely manner."
Administrators could not say if the students would receive refunds for the cancelled trip. Since the school decided to cancel the trip to Costa Rica, Interact Travel Inc., a travel agency, is not going to provide a full refund to the students. However, Starzecki said the district will work as hard as they can to get the refund back to the students as they work with their legal team.
"I'm hoping we can start to put pressure on this organization to do the right thing," Starzecki said.
Senior Jayden Sheffield was planning to do her senior project about the cultural immersion goal of the trip and a humanitarian project in Costa Rica.
"I now have to completely start over on my senior project because my project was based off of the Costa Rica trip," Sheffield said.
At the time The Spartan Spin was putting this story to press, students were just finding out via email from Activities Director Ray Kosey that the entire remainder of the Forensics season was just cancelled. Also, earlier today, students learned that the State Mock Trial competition had been cancelled.
THIS REPORTER'S EFFORTS
I have spent a lot of time trying to find information about the Coronavirus throughout the twin ports area. I started with an email to Scott Lesnau who is the St. Louis County emergency preparedness coordinator who was generous enough to send my questions about the virus to the Douglas County Public Health. I sent that email on Mar. 4, and still haven't gotten an email back from them. 
I then called the Wisconsin Department of Health Services on Mar. 5, and was told that there was nobody to talk to there about the Coronavirus. However, I was told to go to CDC.gov for information about the Coronavirus.
STEPS TO AVOID THE VIRUS, OR AVOID TRANSMITTING IT
According to an article on CDC.gov, to prevent the spread of the Coronavirus you should avoid close contact with people who are sick, avoid touching your eyes, nose, and mouth, stay home when you are sick, cover your cough or sneeze with a tissue, then throw the tissue in the trash, clean and disinfect frequently touched objects and surfaces using a regular household cleaning spray or wipe, and wash your hands often with soap and water for at least 20 seconds, especially after going to the bathroom; before eating; and after blowing your nose, coughing, or sneezing.