New schedule to shape up lunch, support advisory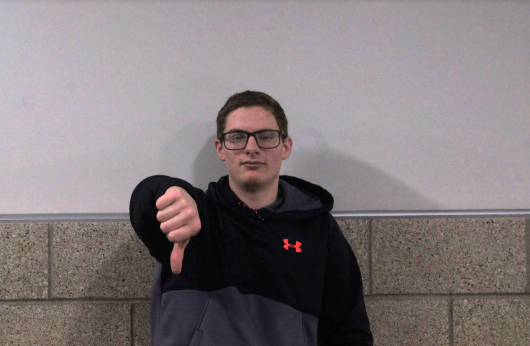 Students no longer are able to leave the commons during lunch as of Jan. 21. 
Principal Rick Flaherty has implemented a new bell schedule that separates the old schedule's hour-long lunch into two half-hour periods separated by another half hour of no one in the Commons. During each lunch, only half of the school's students are allowed to attend while the other half is in their fourth period class. 
"We need and want all kids to graduate and be successful in school," Flaherty said. "We're trying to decrease the number of students that are in the commons area during that lunch time."
Every student has been assigned either A Lunch at 11:05 a.m. or B Lunch at 12:00 p.m. A Lunch lunch now begins after 3rd period and lasts 1/2 hour. While A Lunch students eat, B Lunch students are in their fourth period classes. At 11:58 a.m., after their fourth period has ended, B Lunch students go to the commons to eat and A Lunch students begin their fourth period after the 28-minute period between lunches.
According to Flaherty, the advantage of splitting the lunches is the provided 28-minute period between them for the commons to be cleaned and the cafeteria to re-prepare for the next round of students getting their food.
Flaherty also said that the new schedule has been implemented to increase attendance rates for support advisories. 
According to English teacher Rachael Holden-Kaufman, it's too early to tell if the new schedule has impacted these attendance issues at all. "We're still working out the kinks."
Junior Jayden Ketola thinks it may be confusing for a while, and that the new schedule may not solve all attendance issues.
"In the long term, I don't think it's going to solve every problem because kids can still skip support advisory."
The Spartan Spin released a survey on Jan. 23, asking students how they felt about the new schedule. Of the 451 students that answered the survey, 68% of students said they "hate" the new schedule while only 3% said they "love" it. Concerning whether or not the lunch period is more or less chaotic, 52% say it is still the same while 20% said it's less chaotic and 28% said it's more chaotic.
"Yeah, the lunch room is less chaotic," Senior Riley Bass said. "But I don't know how the cleanliness is going."
Ketola stated another concern as well: "Some of the clubs might be shortened. Especially Rocky Fan Club, because it's usually both A and B lunch."
Senior Riley Bass is also concerned with the diminished club opportunities, but also a decrease in tutoring.
Senior Evaline Britton, president of the National Honor Society, expressed frustration when the NHS has to "plan our meetings and make sure people are in attendance."
Britton specifically spoke to there being multiple clubs during the single 1/2 hour club/tutoring period that wanted to hold their mandatory meetings on Mondays. 
"I know that there are kids that aren't necessarily happy, and several students have spoken with me during lunch time," Flaherty admits. "We've made as many changes as we could right now, but still recognize we need to work on that."