Spartans tame Mustangs, enter playoffs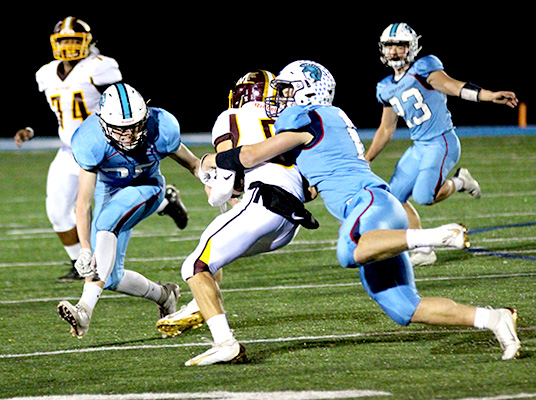 By Dale Summerfield Jr., Reporter/Photo Editor
October 5, 2019
The Superior Spartans corralled the Menomonie Mustangs 14-13 under the Friday night lights at the NBC Spartan Sports Complex, creating a lasting memory for Senior Night. Superior is now guaranteed a playoff berth. They also have a shot at the Big Rivers Conference title. 
Superior's and Menomonie's defenses were stellar for most of the night's game. Each defense forced and recovered fumbles. 
But in the second quarter, the offenses began to click as both teams scored touchdowns. Superior's senior Caden Stone got a 1-yard touchdown from quarterback junior Kaden Kimmes with 7:50 left. 
As for the Mustangs, they answered with a 4-yard run from running back senior Thomas Poplawski. 
In the third quarter, senior Jarrett Gronski rushed from 9 yards to score a touchdown with 2:09 on the clock.
Dale Summerfield Jr.
Senior Brennan Morrisey then rushed into the end zone to give Superior the two-point conversion and a 14-7 lead. 
The Mustangs would answer in the fourth quarter with 8:14 on a Thomas Poplawski run. Menomonie missed the extra point keeping Superior ahead by one.
On 4th and 7 with 2:40 left, the Mustangs had the football looking to convert and win the game. Ryan Kahl was running with the football and was heavily pressured by the Superior defense.  Brady Herbst muscled his way to Kahl and sacked him, turning the ball over to Superior.
Herbst said "As I got set, I was thinking so much that I need to make a play. 'This play is going to be a big one.'"
Superior improved their all-time record against the Mustangs to 3 and 21. 
Gronski in his last regular-season home game found himself in tears after the game.
"We're in a good position to make our goal of being conference champions. I've been waiting my whole life for this," Gronski said
Superior will be facing the River Falls Wildcats next Friday at Ramer Field. The Wildcats hold a 5-2 season record while the Spartans are now 6-1.
Coach Bob Demeyer said after the game in the huddle, "We control our own destiny now".
Demeyer said that he wanted his players to understand that it's their time to take over the Big Rivers Conference and by clinching a playoff spot, they can go out on top, champions.