Twirler whirls her way to College Performance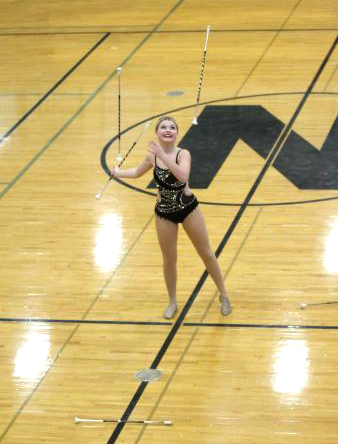 By Zachary Leno, Reporter
April 22, 2019
Hang on for a minute...we're trying to find some more stories you might like.
Sophomore Zoe Schnell competed and won a twirl/dance competition on March 23 for the title of Super Star of the North. Schnell earned this title from the Ultimate Talent Connection. The competition was at Northwestern and offered participants a chance to perform at the Citrus Bowl, a college football game that takes place in Orlando, Florida on New Year's Day, 2020.
Schnell has been performing competitively for the last 10 years and has always found interest in the sport because of the flexibility.
"I've just always stuck with it and always been interested in learning new things… since it's such an uncommon sport, you make stuff up as you go. There are no guidelines. In twirling, you get to do your own thing and be creative," Schnell said.
Schnell performed at the Ultimate Talent Connection as a member of Sterling Silver Dance Studio independently. She also performed with the Sterling Silver group team and received an invitation for a second time to go and compete in a college football game. She participated in multiple group and independent performances, performing with the Spartan Twirlers for their group routine.
Schnell has also performed in many other events for Sterling Silver and Superior High School. She performed for the high school team during the summer of 2018, winning the national competition at the College of Notre Dame and later performing in the Chicago Thanksgiving Day parade.
Sophomore Emma Johnson, one of the twirlers that performed with Schnell, shared about her teammate winning the UTC competition.
"She won that title, and I was so proud of her as a friend and a teammate. She truly deserves it. I can't wait to support her journey to the Citrus Bowl and beyond," Johnson said.