Students determined to inform allies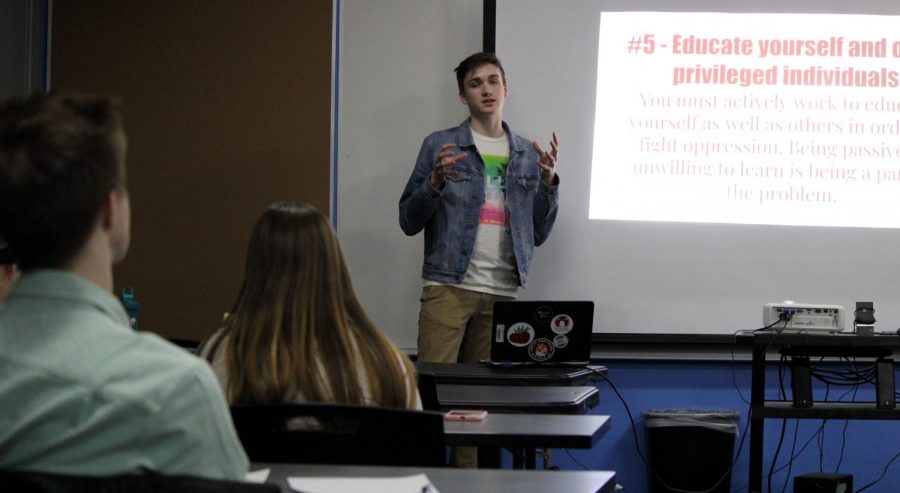 By Laura Jaques, Reporter
April 2, 2019
Sophomore Thomas Chicka and junior Dylan Schelinder spoke to fellow students about becoming a better ally in the library conference room during lunch on March 6. As members of the Gay Straight Alliance, Chicka and Schelinder sought to  inform attendeses about privilege and how to make a difference in the community as an ally.
At the presentation, Chicka and Schelinder played a video called "What is Privilege?" from Buzzfeed.
Chicka and Schelinder pointed out that to be an ally means helping put an end to oppression and, in turn, helping to create equality. But they also pointed out that  being an ally "does not mean that one is exempt from privilege."
"Allies don't take breaks," Chicka said.
The presentation also included an open conversation where attendees could speak their minds.
"It's important to keep up with the laws and politics and things regarding human rights," Chicka said.
To make a point about privilege and its regards to human rights, Chicka and Schelinder had people take steps away from each other when a statement of privilege applied to them. An example of a statement would be, "If your parents worked nights and weekends to support your family, take one step back." But they could take a step forward if their parents could support them without having to work nights. A step forward meant the person would be more privileged. However, taking a step back meant the person was less privileged.
"Hey this person is being left out because they're not like everyone else in this group, but I need to be the one who breaks down the barrier, and be like, 'Hey, come join us because you're the same in my eyes,'" Chicka said.
Chicka and Schelinder did an exercise with the attendees where everyone had a blank piece of paper and were asked to write something about themselves that set them apart from others. Then the attendees were asked to try to throw that piece of paper into the trash can that was located in the front of the room. Based on where a person was sitting showed privilege because people who sat at the back of the room could not make the paper into the basket.
"Like when I am sitting in my AP World class, and there's no people of color," Chicka said. "It's white people who take those higher-education classes because they have more access to it."
He also mentions the gap between students who are in Northland and students who are not. He said the students in Northland are not discriminated against, but there is a difference between the students regarding "the roles they have in school."
"More students should be aware of privilege and understand it," Chicka said.