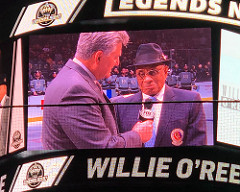 Shortly after winning a league championship, a young baseball team from Fredericton, New Brunswick, traveled to the state of New York as a reward. While on that trip, the team traveled to Ebbets Field in Brooklyn to watch a Dodgers game. After the game, 14 year old Willie O'Ree got the chance to meet baseball icon Jackie Robinson of the Brooklyn Dodgers. Just two short years after Robinson had broken Major League Baseball's color barrier, this would be the first, but not the last time the two would meet.
But before meeting Robinson again, O'Ree went on to achieve a monumentally historic feat himself: he broke the National Hockey League's color barrier in 1958. In his second season as a member of the Quebec Aces of the Quebec Senior Hockey League, O'Ree was called up to the Boston Bruins for a game against the Montreal Canadiens on January 18, 1958. O'Ree played in two games, where he recorded no statistics other than ice time, before being sent back down.
In the 1960-61 season, O'Ree would get another chance to play for the Bruins, where he recorded four goals and 14 assists in 43 games. His NHL career would end after those 43 games, but O'Ree continued to play hockey until 1979.
In 1962, while playing for the Los Angeles Blades, O'Ree and some of his teammates attended a NAACP luncheon in Los Angeles. The guest of honor for the event was none other than Robinson.
O'Ree's coach, George Agar, walked up to Robinson, and introduced him to O'Ree.
"You're the young fellow I met in Brooklyn," O'Ree recalled Robinson saying as they shook hands.
O'Ree's impact on hockey did not end after breaking the color barrier, though. In 1994, O'Ree became the NHL's diversity ambassador, and in 1998 became the director of youth development for the NHL/USA Hockey Diversity Task Force.
In 2018, O'Ree was inducted into the Hockey Hall of Fame.
In a trivia poll on The Spartan Spin website, 52 percent of participants answered that they believed Willie O'Ree was the first black NHL player and were correct.
21 percent of participants believed it was Nigel Dawes, who became one of the first players of Kazakh descent in the NHL in 2006. 14 percent of participants believed it was Val James, who was the first player of African-American descent in the NHL. 13 percent of participants believed it was Grant Fuhr, who was a goaltender in the NHL for 19 seasons.