Principal moving on at end of year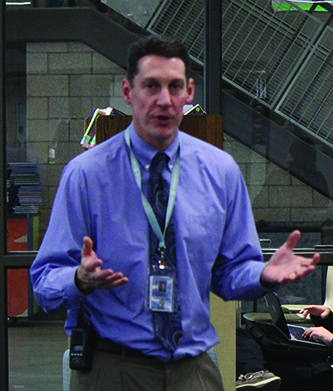 Hang on for a minute...we're trying to find some more stories you might like.
UPDATED FEB. 6
The School District of Superior had announced on their Facebook page as of 11 a.m. today that they would be accepting applications for a new principal at Superior High School for the fall of 2019. The school board accepted principal Greg Posewitz's letter of resignation at the monthly board meeting Monday night. According to the meeting's agenda, Posewitz will officially be stepping down June 30.
The Spartan Spin reached out to Posewitz, and he responded via email, saying, "This was a difficult decision, but knowing that I will be pursuing other opportunities, I have decided to inform the district at this time that I am resigning at the end of this school year in order to give the district the best opportunity to find the next principal of Superior High School. I have truly enjoyed my time here at SHS and have been able to meet and work with many wonderful people. I wish the students and staff all of the best in the future."
Treasurer Julie Rozowski's workspace and office is in close proximity to Posewitz's office.
"The best part (of working with Posewitz) is sharing M&Ms. He comes in here for my M&Ms all the time. I think he is great to work with – his eagerness and kindness. We work on the budgets and stuff together, and he's always willing to share information and get my job done," Rozowski said. "I think that he tried to bring a little more structure. He tried to make people and students accountable. His focus was on the students."
Posewitz has been the principal at SHS since the beginning of the 2017-18 school year and was previously the head principal at Ashland High School.
The Spartan Spin staff also reached out to school district superintendent Amy Starzecki, who responded via email, saying, "One of the things I have appreciated most about Mr. Posewitz is… in addition to the traditional principal duties, Greg has had to balance the building of a new high school for the last two years. Greg has had direct oversight of this project. Throughout the project, Greg has done an excellent job managing all stakeholder groups and providing effective communication.
I also know how much he cares about the students of SHS and has high expectations for all students."